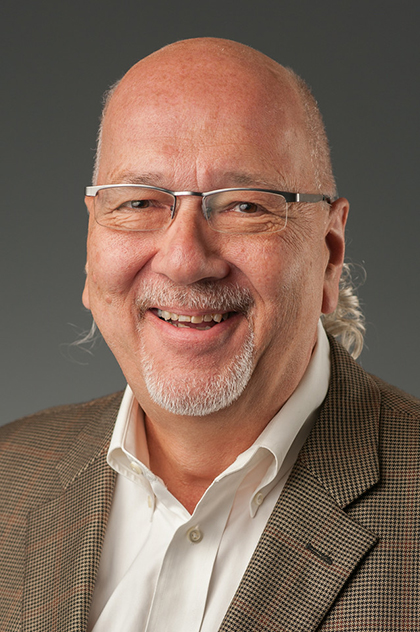 Contact Lens Spectrum, a leading U.S.-based contact lens publication, has named a researcher with Ferris State University's Michigan College of Optometry one of the "30 Most Influential in Contact Lenses" in a recent issue.
Craig Norman, the director of research at the Vision Research Institute said he is honored to be selected for his career contributions.
"Being recognized for an award is not like something you vie for, like 'Dancing with the Stars,'' Norman said. "Those recognized are expert professionals from around the world, so being included is very humbling, to say the least. Additionally, without being surrounded by great colleagues, as I've been, I doubt I'd have accomplished very much at all."
The editors of Contact Lens Spectrum sought the nomination of individuals who have made a significant impact in the field of contact lenses over the last 30 years. A total of 192 nominations were received, and each of the 30 professionals named had at least 10 independent nominations from the industry community.
Norman's profile highlights, among other items, his part in development of several "global meetings" for leaders in the contact lens industry, as these specialists gather annually, in January, to consider the latest technology and treatments available.
"Researchers and experts from 35 countries participate," Norman said. "It's a great environment for the exchange of ideas, new product and instrument demonstrations and to hear lecturers from around the globe describe the latest developments."
Norman had been in clinical specialty contact lens practice for 35 years, in the South Bend, Ind. area, prior to his recruitment to direct the VRI, in February 2013, while also serving as an industry consultant for numerous companies.
The VRI at the Michigan College of Optometry is dedicated to the creation, development and testing of products and procedures for vision correction, in particular the use of specialty products to manage injury, disease and other ocular conditions. The institute has the opportunity to take up research that may not otherwise be accomplished easily, or economically, by those in the eyecare industry.
Norman said the VRI has reached the stage where it is collaborating on notable projects and research.
"Members of the MCO Faculty and the VRI are interacting with industry on research projects, with work ranging from contact lenses to eyeglasses to instrumentation," Norman said. "Plus, those that have been working on these projects have been getting opportunities to present their findings at U.S. and international meetings, which was one of the initial goals when I joined FSU and MCO. That's been more gratifying to me than any individual recognition."


PHOTO CAPTION: Craig Norman