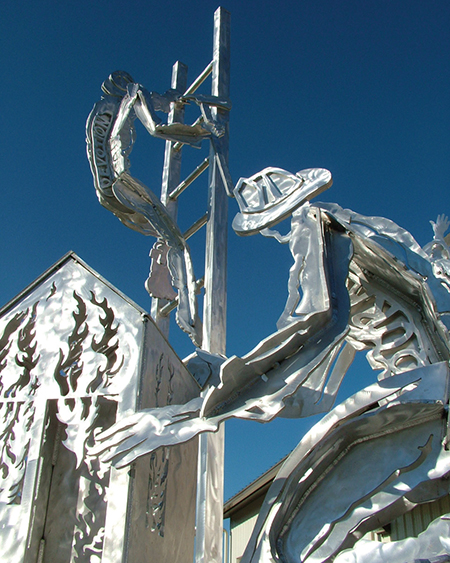 CANADIAN LAKES, Mich. – A Ferris State University faculty member and his students have been central figures in the development of a new Morton Township Firefighter/EMT Monument. This artwork will officially be unveiled to the public during a 1 p.m. ceremony at the Morton Township Fire Station, in Canadian Lakes, Mich., on Saturday, Nov. 19.
Robert Barnum, a Ferris College of Arts, Sciences and Education professor of Fine Arts since 1989, indicated that he has been pleased with the quality of the work that has been invested in the project as well as the finished product. Barnum said that the monument has been designed, fabricated and installed under his aesthetic engineering concept. He further noted that his academic-oriented concept has translated well to a high-level public artwork of this nature.
As part of the dedication, Barnum is one of several speakers scheduled to address people in attendance at the dedication. The speaker roster includes: U.S. Sen. Debbie Stabenow, of the state of Michigan; Fire Chief John Clark, from the West Michigan Association of Fire Chiefs; and Canadian Lakes' businessman Gale Hixson, of Hixson's Family Market.
"I will speak to the public art concept, and I will honor the Ferris students who played a significant role in realizing this dedicated monument," Barnum said. "One continued goal or challenge with this academic concept is to seek public art projects that serve the highest human good. This Firefighter/EMT Monument took more than four years of challenges to create and install, and it stands as one of our best examples of the humanist goal."
Ferris College of Engineering Technology students have worked with Barnum in development of this project. Barnum cited Kaleb Parsch, of Imlay City, Mich., and Steve Bajcer, of Vermilion, Ohio, both from Welding Engineering Technology, and Elaine Munn, from Kingsford, Mich., and Eric Nienhouse, Muskegon, Mich., both from Architectural Technology. Barnum noted that Parsch and Bajcer "played a significant role in every step of this monument project, including the installation." He also advised that Munn and Nienhouse "were involved at numerous levels, and worked on monument site designs and appropriate monument area signage."


PHOTO CAPTION: Shown here is an image of the new Morton Township Firefighter/EMT Monument that will be officially unveiled to the public in a Saturday, Nov. 19 ceremony at the Morton Township Fire Station in Canadian Lakes, Mich.