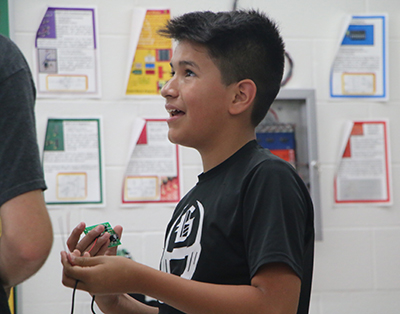 A number of excited middle school students from underserved communities in West Michigan attended Ferris State University's Architectural Design Academy and the Inventor's Academy, this past July. Tony Baker, director of Community Engagement in the Center for [email protected] Studies, and the rest of the CLS staff, were instrumental in helping the students participate in the camps. Baker is seeking support, again this year, to connect the mission of Ferris with Latino, African American and other underrepresented students to experience, as one student told an instructor, "the time of his life."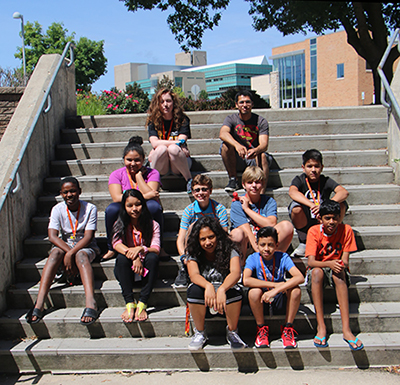 Ferris offers academic camps each summer for students aged 14 to 18 on topics such as digital animation, game design, biotech, architecture, writing and inventing. However, for many West Michigan students, these opportunities are inaccessible. Barriers include issues of cost and transportation as well as a lack of role models to encourage students.
Baker and the Center for [email protected] Studies assisted 11 students from Burton Middle School and Innovation High School, in Grand Rapids, Belding middle and high schools and Greenville middle and high schools with funding to attend the camps. This was a new initiative and Baker is now seeking sponsors for another group of students.
Last year's students attending the Architectural Design Academy explored their creative side, gaining hands-on experience with industry tools and software. Chris Cosper, assistant professor in the Department of Architectural Technology and Facility Management, explained that the students "took a small project through several design stages, including visiting the site, freehand sketching, model building, and digital model building, and concluded with a virtual reality demonstration of their project." Mary Brayton and Paul Long, faculty from the Architectural and Facility Management Department, also provided instruction.
Students in the Inventor's Academy learned how to design, develop, and create an invention. The students enjoyed sessions on product design and development, CAD, STEM career exploration, material selection and production methods in the NEC plastics lab, product testing and analysis, making a 3-D printed part, and building a prototype with electronics. Fun activities included a pizza party, free time at the UREC, bowling and eating at The Rock.
"As an instructor, it's very rewarding to know you are making an impact on young people and their future career opportunities," said Dan Wanink, professor in the CAD Drafting and Tool Design Technology Department. He led the academy along with faculty members from the College of Engineering Technology, Marc Guske, Steve Johnson, Luke Hedman, Nate Leatherman and Blaine Danley.
According to Baker, if Ferris is going to be the university for all students, then we have to take what we do well and expand these offerings into developing relationships with new communities. The success of the Center for [email protected] Studies exemplifies the outcomes of new community relationships. Expanding these relationships, with all that Ferris does, will enhance the learning environment of the entire campus and provide true access to students from all backgrounds. Big Rapids can seem a million miles away to many of these children, yet these new relationships create a neighboring institution that cares. Look for these students in your classes in 2021.
Support for these camps came from Academic Affairs and the Office of Diversity and Inclusion.
To find out more about the Center for [email protected] Studies or to support students attending summer academies, click the CLS website.

PHOTO CAPTION: Shown here are images of middle school students in attendance at the Inventor's Academy.