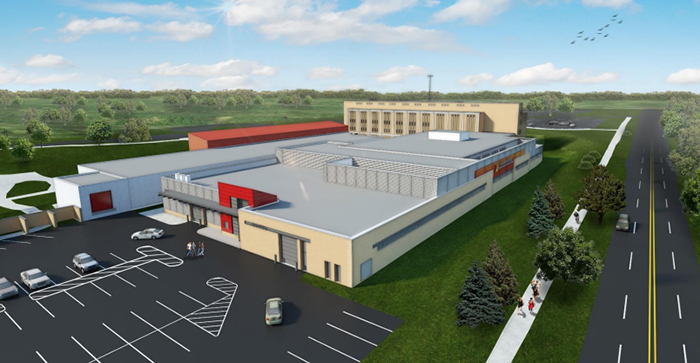 Ferris State University's Swan Technical Arts Building is set to undergo a significant expansion as part of a state of Michigan capital outlay project that was recently signed by Gov. Rick Snyder. The $30 million project will turn the Center for Welding Excellence and Center for Advanced Manufacturing into a reality on the Big Rapids campus.

The vision of Ferris State University's future Center for Welding Excellence and Center for Advanced Manufacturing will soon become a reality. This week, Gov. Rick Snyder signed his approval for the $30 million Swan Annex expansion.
Prior to the governor's signed endorsement, the state legislature approved construction authorization for the Swan Annex expansion capital outlay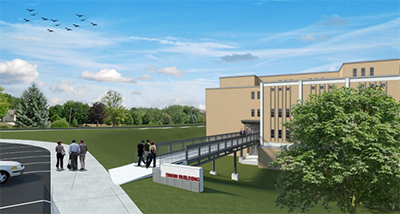 project. This year, Swan Annex was the state of Michigan's only approved higher-education capital outlay project to receive construction authorization. Ferris President David Eisler noted the opportunities that the university will now have for a much-needed expansion of academic and laboratory space for College of Engineering Technology programs such as welding and advanced manufacturing. Further, Eisler expressed his appreciation for the legislative support that the project has received.
"We're very grateful to Sen. Darwin Booher for his support for this project," Eisler said. "His leadership in Lansing was critical to the approval and funding of this much-needed expansion of our nationally-recognized programs in Welding Engineering Technology and Advanced Manufacturing Technology."
Booher praised Ferris' leadership in the education of students to become qualified professionals, particularly in the fields of manufacturing and welding, as highlighted by Eisler.
"Ferris State University has been a leader in preparing today's students for tomorrow's jobs and this addition to the Swan building will be instrumental in expanding the welding and advanced manufacturing programs," Booher said. "I look forward to work beginning soon on this project so that more people can be trained in these critical shortage areas by a proven leader."
The $30 million project includes $22.5 million in funding from the state of Michigan while Ferris will contribute $7.5 million toward the facility's expansion. The full scope of the project includes the renovation of the current 47,086 square-foot building and the addition of 34,462 square feet of state-of-the-art new space to better serve the Welding Engineering Technology and Advanced Manufacturing Technology academic programs that have outgrown the current space. Ferris' welding and manufacturing programs are filled to capacity and lack the instructional space to meet the demand of a long student waitlist.
The Swan Annex project will double the size of the welding program as a Center for Welding Excellence, and create a Center for Advanced Manufacturing. The fully-completed project will significantly upgrade the laboratories used for manufacturing-related programs such as CAD Drafting and Tool Design, Mechanical Engineering Technology, and Plastics and Rubber.
College of Engineering Technology Dean Larry Schult noted a great demand for students with associate degrees in Welding Technology, as well as their Bachelor of Science in Welding Engineering Technology.
"Our program is nationally-recognized, and has a rigor that matches its status, with academics that are deserving of such honors," Schult said. "When the facility that is being planned is completed, state-of-the-art facilities will be in place, along with the most modern equipment."
A report by Manufacturing Institute, in partnership with Deloitte, demonstrated a need for a qualified workforce. The 2015 Skills Gap Report reads, in part, "Every dollar spent in manufacturing adds $1.37 to the U.S. economy, and every 100 jobs in a manufacturing facility creates an additional 250 jobs in other sectors."
Gov. Snyder visited Big Rapids and toured Ferris' Swan Technical Arts Building, in April 2014.
Swan Annex construction is expected to begin, in 2016, and run toward a 2018 completion date.