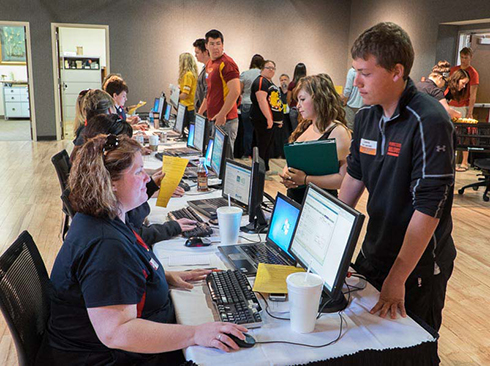 Here are the top 10 reasons orientation is cool.
Incoming and transfer students will learn about Ferris State University, and the Big Rapids community, this summer, as 17 one-day orientation sessions are scheduled from Monday, June 13 through Thursday, Aug. 25.
The university's assistant director of admissions for marketing and events, Eric Simone, said that Ferris anticipates that more than 2,000 students will participate in orientation sessions. The day's schedule gives these students the opportunity to learn more about their academic major, and to become familiar with campus, as well as the Big Rapids community.
"Each year, we try to expand our base of information that orientation leaders can offer about the Big Rapids area," Simone said. "Their preparation, this year, included visiting the Red Fox Market and Yellow Window, two new downtown businesses that will open before classes begin. We hope, when new students ask about what is available in our area, that our leaders will be ready with the best possible information."
Beyond annual orientation activities, such as picture-taking for student identification cards and registering for classes, Simone said that the midday portion of their schedule will see students separate from their parents or guests.
"Their family or friends will be offered a presentation on financial information while the students go to the North Quad, where they will participate in team-building activities," Simone said. "We have received feedback from students, recently, that they want to be more connected with the campus, and have the chance to meet other students during their visit."
All orientation sessions begin at 9 a.m., and the day's itinerary will be completed by 4:30 p.m.
The first day of classes for the Fall 2016 semester is Monday, August 29.


PHOTO CAPTION: More than 2,000 incoming and transfer students are expected to participate in one of 17 orientation sessions scheduled this summer on Ferris State University's Big Rapids campus. The day-long sessions begin on Monday, June 13.