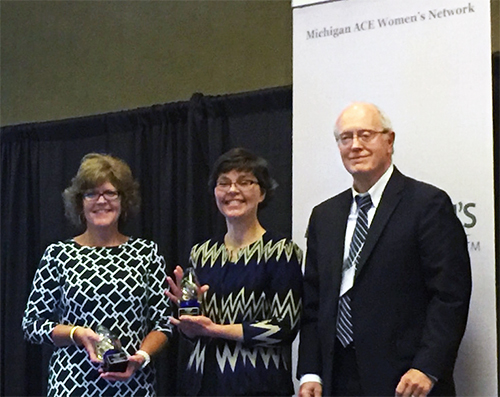 Ferris State University's Leah Monger and Gayle S. Lopez were awarded the Outstanding Institutional Representative Award for their work in promoting women's leadership.
The award was presented to Monger and Lopez at the MI-ACE Women's Network Annual State Conference luncheon, in Lansing, on Tuesday, June 7. The award recognizes and honors the institutional representative who has demonstrated measurable progress in promoting and sustaining MI-ACE Women's Network campus activities. The purpose of MI-ACE Women's Network is to foster programs that identify, develop, encourage, advance, link and support women in higher education careers within that state.
Monger is the assistant dean for collections and access services in the FLITE library where she administers library technical services. She attended the 2015 HERS Institute at Bryn Mawr College. HERS graduates complete a leadership project at their home institutions. Inspired by her work as an institutional representative, Monger wanted to facilitate the creation of gender-themed professional development programming in conjunction with the Faculty Center for Teaching and Learning and the Staff Center for Training and Development. Monger, and co-IR Lopez, were recipients of a 2016 IR Micro-Grant that helped fund a three-part series of workshops this spring, at Ferris. In partnership with Jody Gardei, from SCTD, and Vanessa L. Marr, of FCTL, the four women were also awarded a Ferris Diversity and Inclusion Mini-Grant for the project.
Monger holds a Master of Library Science from Indiana University, a Master of Arts in Liberal Studies, with a concentration in English Literature, from State University of New York and a Bachelor of Arts in English and Spanish from Indiana University.
Lopez teaches Business Law and Legal Studies courses in the College of Business and is a licensed attorney in California and Michigan. In addition, she is the Management Department chair in Ferris' College of Business where she leads 22 tenured/tenure-track faculty, more than 20 adjunct faculty, three staff members and approximately 900 students. Lopez holds a Juris Doctor degree from the University of San Francisco's School of Law, and both a Bachelor of Science in Business Administration and an Associate of Applied Science in Legal Assisting, from Ferris.
For more information click the MI-ACE Women's Network.


PHOTO CAPTION: Gayle Lopez, Leah Monger, and Provost and Vice President for Academic Affairs Paul Blake are shown here.