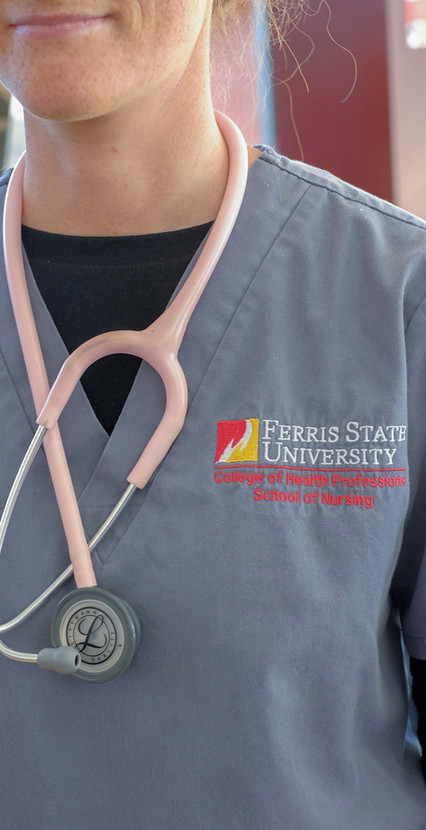 New academic programs are being readied at Ferris State University, following approval by the Ferris Board of Trustees at their May 6 meeting.
A Doctor of Nursing Practice program awaits certification from the Higher Learning Commission, according to School of Nursing Chair Sue Owens. She said that the College of Health Professions would enroll its first students in Fall 2017, if all curriculum reviews and subsequent approvals are received.
"It has truly been a learning process for our college, and especially the School of Nursing," Owens said. "Our DNP program coordinator, Kathryn Niemeyer, took a leadership role in advancing the process."
Niemeyer, an assistant professor of Nursing said that two years of work in program development was supported by a consultant, and the curriculum has been aligned with the essentials of doctoral education for advanced Nursing. The proposed doctorate is designed as a three-year, online, part-time and 36-credit program.
"This is a natural evolution of leadership, in terms of Nursing administration," Niemeyer said. "This is a clinical doctorate, with the main objective of translating research into practice at the systems level. We think it is important to pursue excellence, and successfully impact health care delivery."
College of Health Professions Dean Matthew Adeyanju said that health care industry standards require those who lead departments in health care systems to have a doctoral degree.
"Because of our location, we will support rural health care operations throughout northern Michigan," Adeyanju said. "We are recognized for our professional doctorates in Pharmacy and Optometry. These programs will help encourage candidates to advance their learning in Nursing Practice."
The College of Arts, Sciences and Education will begin enrolling students this fall who wish to pursue an Associate of Arts degree in Psychology. Previously, the university had offered a Pre-Psychology curriculum to undergraduate students.
Program coordinator Meral Topcu, a professor of Social Sciences said that this change will not significantly impact their tenure-track and adjunct faculty members who will offer instruction in the required Psychology courses.
"Most students who receive an AAS in Psychology would be preparing for careers in youth counseling, as a home care aide, or as a human service assistant," Topcu said. "Graduates would be helping people who are facing problems and challenges in their daily living, and their skills would offer value for a variety of employers."
A Professional Brew Management program will also begin accepting students in Fall 2016, and require students seeking this Associate of Applied Science degree to complete a 400-hour minimum internship in a brewing operation. Hospitality Management Program Coordinator Julie Doyle said that their training is unique, and students will also have the opportunity to participate in a Study Abroad course.
"With the increase of craft beer as a key component in tourism, Ferris' Hospitality Management program is keeping pace with this emerging new $22.3 billion dollar market by offering Professional Brew Management, with a focus on entrepreneurship and management of brew operations," Doyle said. "Courses will prepare students to pass Certified Beer Server and Certified Cicerone exams within the Cicerone Certification Program."
The Hospitality Management program has been a member of the American Homebrewers Association, and recently achieved membership in the Michigan Craft Distillers Association. The Professional Brew Management degree can be attained in conjunction with the Bachelor of Science degree in Hospitality Management. The university has also begun Bachelor of Science degree offerings in Industrial Chemistry, with a concentration on Fermentation Science, a key component of the brewing and distilling process.

PHOTO CAPTION: Three new degree programs have been approved by the Ferris State University Board of Trustees. A Doctor of Nursing Practice program is slated to begin enrolling students in Fall 2017. An associate degree in Psychology and an AAS in Professional Brew Management will begin accepting students in Fall 2016.