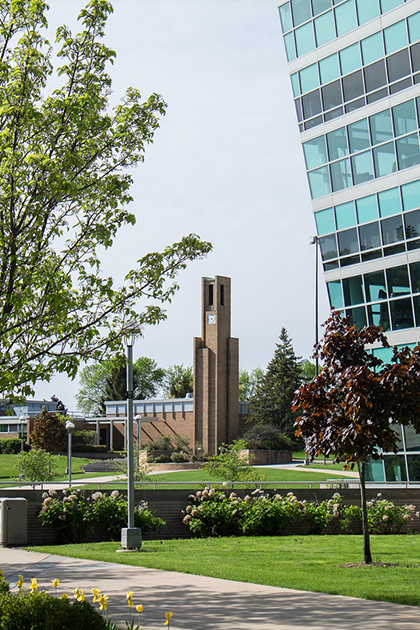 Eighty-eight percent of Ferris State University students indicated that they believe the institution takes reports of sexual assault seriously and that it responds effectively. This was among the findings that the university has released based on a system-wide climate survey conducted during the 2015-16 academic year.
The survey further indicated that 91 percent of students who had received information about sexual assault and prevention programs found that what they were provided was beneficial. A majority of respondents correctly identified the elements of sexual consent. Survey respondents also provided the university with important information related to unwanted sexual experiences, stalking and abusive relationships. These and other survey results are expected to play a major role in the university's efforts to address issues related to sexual assault, appropriate and effective awareness programming and bystander intervention.
"This climate survey represents an important first step in Ferris State University's efforts to end sexual violence and unwanted sexual behaviors on our campuses," Vice President for Student Affairs Jeanine Ward-Roof said. "Any and all types of sexual misconduct are both deeply troubling and unacceptable. As a university community, Ferris is committed to a safe, supportive and welcoming environment in which all of our students, faculty, staff and visitors feel that they are treated with dignity and respect."
Six hundred and thirty-two students participated in the climate survey. Based on responses, the university has identified several key findings. One hundred and thirty-one students, 20.7 percent, reported unwanted sexual experiences that ranged from sexual touching to penetration; 186, 29.4 percent, reported that they had experienced stalking behavior; and 127, 20.1 percent, reported that they had experienced relationship abuse. Women reported significantly higher rates, among the aforementioned experiences, than did their male peers.
One hundred and six of the 402 female respondents, 26 percent, reported that they had experienced unwanted sexual behavior while they attended Ferris. Twenty-five of 240 male respondents, 10.4 percent, reported that they had experienced unwanted sexual behavior while they attended Ferris.
Ferris is currently implementing two particular initiatives designed to continue to improve the climate for its students, faculty, staff and visitors.
In awareness programming, Ferris utilizes Haven, by Everfi. Haven is an evidence-based, online sexual assault prevention program. Further, as part of the FSUS first-year seminar course, the Choices, Communication and Consent emphasis educates first-year students on topics that include consent and reporting options for individuals who have experienced sexual violence. Additionally, a university prevention committee has been formed. This group includes community stakeholders to help develop a curriculum of prevention programming and activities throughout the upcoming 2016-17 academic year.
Bystander intervention will continue as a key initiative. During the 2015-16 academic year, the university initiated the StepUp peer education program. StepUp will continue to engage students in a yearlong series of events in residence halls, FSUS courses and through campus student organizations. In addition to current and future efforts, to address consent and reporting options, the Choices, Communication and Consent program will include an interactive video series that will showcase safe strategies for bystander intervention. The finished videos will be posted to Ferris' Title IX website.
"The information gathered in the climate survey is vital. We know, from national data, that incidents of sexual and relationship violence go unreported, and we are not immune," Title IX Coordinator and Associate Dean of Student Life Kevin Carmody said. "The results of this survey will inform our efforts for outreach and prevention so that we can more effectively address and eliminate these issues."
The majority of climate survey responses came from Big Rapids campus students, with 541, 85.6 percent. The next largest group was from the Grand Rapids campus, not including Kendall College of Art and Design, which accounted for 30 responses, 4.7 percent. Online and other statewide campuses accounted for 21, 3.3 percent, and 14 responses, 2.2 percent, respectively.
Click climate survey to view the report for more specific data.