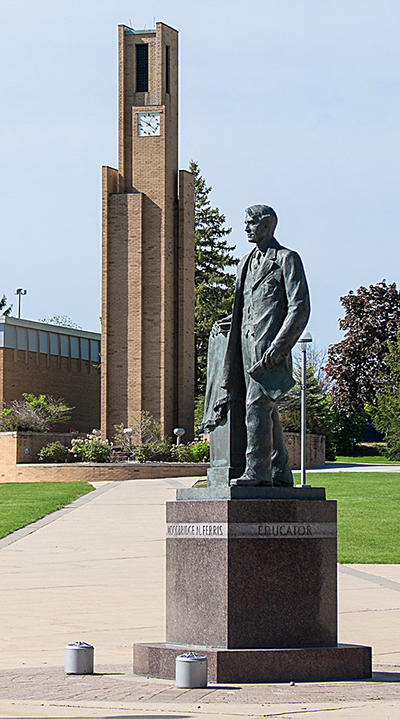 Twenty-seven Ferris State University students have learned that they are Legacy Scholarship recipients as $30,000 has been awarded by the university's Alumni Association for the 2016-17 academic year.
Director of Alumni Relations Brandi Behrenwald said that 38 students met the criteria to be considered for the scholarship, which can be up to $2,000. Applicants must be the child, sibling or grandchild of a Ferris alumna or alumnus, and cannot have previously received a Legacy Scholarship.

"We were pleased to have so many qualified applicants for the Legacy Scholarship," Behrenwald said. "It is a great opportunity to help grow future leaders whose parents, grandparents or siblings graduated from Ferris. It's our hope to help as many students as possible with scholarship assistance toward the completion of a Ferris degree."
Recipients must have a 2.75 or greater grade point average, and have successfully completed a minimum of 26 credit hours. Those pursuing associate degrees must have completed 30 credit hours, and those after a bachelor's degree must have at least 56 credit hours earned. Their family member who earned a Ferris degree must submit a letter describing the effect that learning had on their life, or professional career. The scholarship applicant must submit an essay that describes their personal career goals, and how those hopes will be aided by a degree from Ferris. Each student must also submit a recommendation from a Ferris faculty or staff member.
Scholarship awards are of equal amounts, awarded in consecutive semesters.
The winners of $2,000 awards are:

Zachary Peters of Saint Johns
Andrew Watson of Hudsonville
$1,500 Scholarship recipients are:

Ericka Martin of Westphalia
Carly Loichinger of Allen Park
Students awarded $1,000 scholarships are:

Carlee Balzer of Gladwin
Seth Carncross of Perry
Keagan Cottick of Pinconning
Ethan Vincent of Marshall
Alyssa Wilson of Traverse City
Janie Sell of Portage
Christopher Poiner of Walled Lake
Rachel Dubuisson of South Haven
Tessa Jackson of Laingsburg
Tori Burzynski of Pinconning
Kathleen Lucas of Gaylord
Zachary Cox of Reed City
Christopher Price of Indian River
Gustaf Eastman of Green Bay, Wisc.
Caitlyn Hain of Whitehall
Benjamin Morris of Plymouth, Wisc.
Nicolas Ward of Weidman
Edward Milanowski of Grand Rapids
Morgan McGaffigan of Albion
Ryan Waurzyniak of Big Rapids
Sean Walkowski of Unionville
Cody Wheeler of Lansing
James O'Connor of Taylor
Winners will be honored at the Legacy Luncheon on Saturday, Oct. 15, at the Holiday Inn Hotel and Conference Center. Behrenwald said that the annual event is a celebration of the family pursuit of excellence that is exhibited by these recipients.
"We will welcome the students, and their families that day," Behrenwald said. "Our Alumni Association board, as well as the deans from our colleges participate, and get a chance to meet scholarship recipients."
Those attending the Legacy Luncheon will be welcomed at the Ferris-Northern Michigan football game at Top Taggart Field that afternoon.


PHOTO CAPTION: Ferris State University's Alumni Association Board recently announced the names of 27 Legacy Scholarship recipients. The students were eligible to receive up to $2,000 to further their educations at the university.