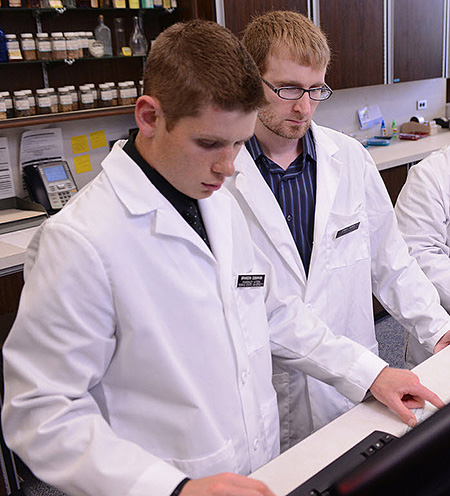 First-term doctoral students in Ferris State University's College of Pharmacy have completed Fall semester's final exams, and enter the remainder of their academic year, with the counsel of, and support from, second year, or "P-2" mentors.
This is the fifth year that the college has offered its peer mentor program, according to the college's Director of Student Services Margaret Lyons. The coordinator of the Peer Mentor program said that this year was the first time that the pairing of mentors and mentees took place in June.
"The needs of the 'P-1' students drive how much they get together," Lyons said.
With that in mind, the college does not prescribe a level of structure to these relationships, and Lyons said a mentor will typically offer their mentee or mentees the chance to meet two to three times throughout the semester.
Lyons said around 60 percent of the students in the college's Class of 2019 took advantage of the Peer Mentor program this year, as 73 mentors were paired with 91 mentees. Program goals include:
reducing the stress experienced by P-1 students as they take their formative pharmacy classes;
providing study help in an effort to increase the amount of time for sleep available to these students; and
and producing a higher grade point average among program participants, through a more focused approach to their studies.


"We've surveyed students every semester," Lyons said. "Those who take part get guidance, optimized test taking skills, and that's been consistent every year."
Lyons offered credit to Karen GreenBay, Director of Ferris' SCHOLAR Peer Mentor program, for her assistance as the program was established.
"It was a great deal of help," Lyons said.
Some mentors offer support to as many as three P-1 students, and Allison Bouwma, of Lake Orion, is in contact with two students, Monica Polkowski and Herve BolaWafo, as they advance through their first year. Bouwma said she was a mentee in the 2014-15 academic year, and gained personal, as well as academic support from her mentor, Farah Jalloul.
"I came from Oakland University to Ferris. It was completely new," Bouwma said. "My mentor/mentee relationship started as the academic year began. The exam review with Farah was a huge relief for me. I was also able to learn where I could get a haircut."
Bouwma said she can structure her advice for Polkowski, as Monica had been a Pre-Pharmacy student at Ferris before entering the college.
"She definitely had more questions at the beginning regarding the program," Bouwma said. "Herve transferred here, so I talk with him about pharmacy in general. He also asked about what to do around Big Rapids, where he could live, whether attending the football games was free."
Polkowski said she had concerns that her relationship with Bouwma would be "an every-day check-in kind of thing," but she is pleased with her participation and the results.
"If I was to describe it in one word, it would be 'beneficial,'" Polkowski said. "It's great to talk to Allison. If you talk about your classwork and studies all day, it can burn you out. Talking about other things with a P-2 is something they need, as much as us."
BolaWafo is a native of Cameroon, in central Africa, where he received vocational training in Graphic Arts and worked professionally for about 10 years. He took pre-requisite courses at Lansing Community College before he was accepted to attend Ferris' College of Pharmacy. Herve was glad his contacts with Bouwma began before the academic year started.
"During the summer, I sent her an email and she gave me her phone number," BolaWafo said. "I was afraid because of what others told me about the difficulties of pharmacy. Allison prepared me for the things that would happen, it reduced my anxiety and made the first day of class easier for me."
Both Polkowski and BolaWafo expressed their gratitude for the class notes and other support that Bouwma has provided, and anticipated their P-1 exam review would be equally beneficial.
"It's been a great experience to have someone there, offering to help," Polkowski said. "As we continue our classes in Big Rapids and move on to Grand Rapids down the line, I'll be able to learn about each change with someone who has experienced it."
"Allison is really encouraging me, providing notes that help narrow down my studies, make them more efficient," BolaWafo said. "It's also been great to have connections beyond the classroom. Allison encouraged me to take part in the hockey team's Pharmacy Night. I really enjoyed the game, being with everyone I see in the Pharmacy building."
Bouwma said the peer/mentor program is a chance for her to give back, in thanks for what she gained from participating last year.
"It may not be helping me academically at this time, but I remember what it meant to me," Bouwma said. "I want to be able to do that for this year's class."
BolaWafo said his experience has been worthwhile, and one he intends to continue.
"Mrs. Lyons should know that I was impressed how this program helped me to be ready, to not be in a 'panic mode,'" BolaWafo said. "I'm hoping to be a mentor, to help others."
Last updated: 01-05-2016