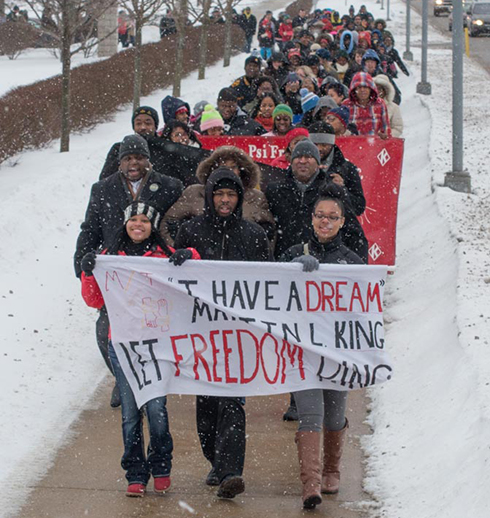 VIDEO: Preview of the 2016 Martin Luther King Jr. Celebration at Ferris.
Ferris State University students, faculty and staff are encouraged to plan for, and participate in, the 30th annual Martin Luther King Jr. Celebration Jan. 18-21 on the Big Rapids campus.
Michael Wade, assistant director of Ferris' Office of Multicultural Student Services, is co-chair of the 2016 MLK Celebration Planning Committee. Wade said that six events have been scheduled to honor King, one of history's most influential civil rights leaders. While classes are not in session on the national holiday, Monday, Jan. 18, Wade said that students should "mark it as a day on, not a day off."
"With incoming and transfer students, it's a new experience," Wade said. "We hope other students mark this on their calendar. There are a variety of events where students can participate, and be engaged."
The OMSS will present the Freedom March on Monday Jan. 18, which begins at 4 p.m. in the Rankin Lounge of the University Center, and ends at 8 p.m. in University Center, Room 202. That office has also sponsored the Student Tribute, beginning at 7 p.m. Tuesday, Jan. 19 in Room 217 of the University Center.
"Since 1986, we've been doing those staple events," Wade said. "We believe they are a significant part of the celebration."
Ferris' Diversity and Inclusion Office will present the 22nd annual Faculty/Staff In-Service on Monday, Jan. 18 at 10 a.m. in University Center, Room 203. All interested persons are welcomed to visit the "Tunnel of Oppression," hosted by the Office of Housing and Residence Life on Tuesday, Jan. 19 through Thursday, Jan. 21 from 11 a.m. to 6 p.m. in the basement of Ward Hall. The campus and Big Rapids communities are invited to attend "Your Words Have Power," the featured discussion of the celebration, beginning at 7 p.m. Wednesday, Jan. 20 in University Center, Rooms 202 A and B. That discussion is sponsored by two Ferris registered student organizations, Advocacy and Education of Gender and Identity and Sexuality and Student Michigan Education Association.
Wade noted that the university will welcome Tamika Mallory, co-director of the 20th anniversary of The Million Man March, as a guest speaker on Thursday, Jan. 20 at 6 p.m. in University Center, Room 202C. Mallory has been called the "Sojourner Truth of our time" by "Jet" magazine.
"She promotes the message of social justice in the spirit of Dr. King," Wade said. "She brings a perspective that is needed, I think the audience will enjoy hearing her."
All MLK Celebration events are free, and open to the public. Anyone in need of assistance to attend any of the events should contact the OMSS at (231) 591-2617 or email [email protected] at least 72 hours in advance.
Last updated: 01-18-2016