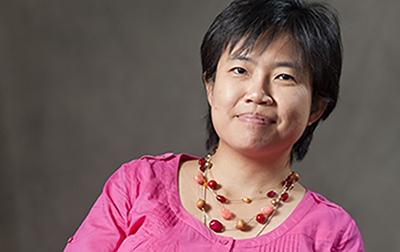 An assistant professor in Ferris State University's Information Security and Intelligence program said she, and her peers are perpetually involved in training and research, so as to keep their curriculum up-to-date and relevant for students.
Hwee-Joo Kam spent a portion of her summer participating in the SEED Cybersecurity Workshop held at Syracuse University in New York state. Her scholarship was funded by the National Science Foundation, and Kam said meeting with faculty from other top research universities helped improve her skill as a cybersecurity instructor.
"I believe we, at Ferris, are on par with the nation's leading ISI schools," Kam said. "We all need support to keep up with, and perform at the highest level."
Ferris' ISI program has been designated a National Center of Academic Excellence in cyber defense education by the National Security Agency and the Department of Homeland Security, and that will remain effective through academic year 2020. Students can pursue a minor in Homeland Security and Digital Forensics, a Bachelor of Science in Information Security and Intelligence, or a Master of Science in ISI.
Kam added that peer ISI instructors, including program founder Doug Blakemore, Jerry Emerick, Jim Furstenburg and Greg Gogolin "have a continuing pursuit to make our instruction better, collaborate and explore new themes."
"You have to stay on top of everything," Kam said. "If you are lucky, you can stay with course content for three years."
Kam also was a presenter at the 2015 European Conference of Information Systems, held this summer in Munster, Germany. The professor said there is a 30% acceptance rate for participation in ECIS, and her presentation, "A Tale of Two Cities: Policy Compliance of the Banks in the United States and South Korea", was nominated for the best paper award.
"Doing research can make me a better teacher," Kam said. "You are forced to consider information from a new perspective. It's very helpful."
Kam said having an awareness of research underway at other top cybersecurity schools impacts the curriculum in Ferris' ISI program. She said that means staying updated on the latest information from Emory University in Atlanta, Ga., MIT, Ivy League schools and Florida State University.
"I've learned that Florida State has a cyber-threat program that investigates deceptive behavior," Kam said. "Applying their best practices, I've learned better how to teach secure coding."
Other ISI instructors include Robin Barraco and Jason Otting. Kam said with the growing reliance on technology in education and business, Ferris' students who train for careers in cybersecurity will make important contributions.
"While it's not like teaching surgeons, training ethical behavior is very important to preserve this critical infrastructure," Kam said. "The effect can perhaps be greater to the larger society."

PHOTO CAPTION: Hwee-Joo Kam, an assistant professor in Ferris State University's Information Security and Intelligence program, participated in a cybersecurity workshop and an international information systems conference during the summer of 2015.
Last updated: 01-07-2016