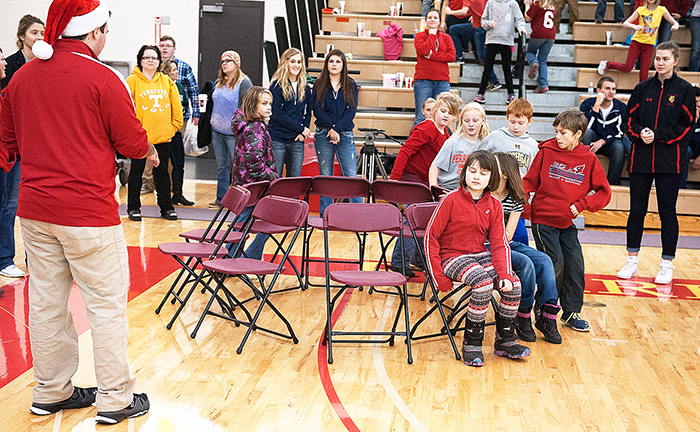 A game of musical chairs is shown here during basketball games last season in Jim Wink Arena. Jon Coles, associate athletics director at Ferris State University (pictured below), works hard to strengthen the game day atmosphere at athletics events.
Associate Athletic Director Jon Coles is in his eighth year of game day management, community outreach and engagement for Ferris State University's sports programs. He brings a background as an athlete, having earned four letters in tennis at Valparaiso University (Ind.), and as a coach of men's and women's tennis at Lake Superior State University to his leadership position, which includes the marketing of Ferris' sporting events, and oversight of the Bulldogs' spirit groups.
Coles recently spoke with the university's News Services and Social Media office about the athletic department's year-round efforts to create a great fan atmosphere at Ferris' home events.
News Services: What are the important considerations for your department, and game day staff in terms of what is done to make spectators comfortable as they attend a particular event?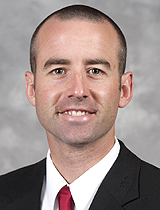 Jon Coles: We want to make sure that first off, there is adequate parking for those who have driven onto campus. The ticket takers will greet our guests with a smile, when our supporters head to their seats, they should find them clean, and that includes the restrooms at the stadium, or arena. Our announcements to those attending should be informative, our concessions should be well stocked, and the music should be good. To maximize our success, I believe we need a mix of small town hospitality with a big time product. With recent success on the regional and national stage, we've had both.
NS: How much feedback do you get about music, which can be a very subjective choice for an audience, and the secondary, or non-game elements of a Ferris sporting event?
Coles: We don't hear many complaints about the type of music selected. We're trying to give the audience up-tempo music, and a stimulating experience through our pep band's performance. It's important that we engage the crowd with giveaways and on-court activities during timeouts, and intermissions, and that the cheer and dance teams are focused on excellence, with performances that are appropriate for all ages, and safe. There will also be activities available for kids at our event, like bounce houses, or coloring tables. People do make comments about parking whenever we host an event, which probably happens with any school's program. We try hard to make as many spaces as possible available near the game site.
NS: While the athletic department can only support what Ferris' teams accomplish in their competition, how can those young men and women collaborate with you, and improve upon that experience for the audience?
Coles: I go back to the idea that Ferris will offer a big-time product, but with small town hospitality. As our staff will take pride in greeting people as they come into our event, we also expect that our athletes exhibit good sportsmanship, and that a Bulldog will be approachable. That means being engaging, whether that comes from hockey players saluting the audience after a game, or allowing fans to come down onto the football field or volleyball court when the contest is done. It doesn't take a lot of conversation with athletes on our part, it's expected, a culture that we have established. Our freshmen see the upperclassmen and women doing it, and continue this tradition.
NS: As this interview is being conducted, Ferris is coming down the stretch with its basketball schedule. Does it take a certain level of buy-in from the players and coaches to show that appreciation to the people in the stands?
Coles: The response of basketball players going into the stands to thank Ferris' backers has been fantastic. Coach (Andy) Bronkema took that upon himself, and I know Coach (Kendra) Faustin has her players involved, signing autographs on schedule posters for kids post-game, and being engaged with our audience. I am proud of our athletes, because they take the opportunity to be welcoming to, and thankful for the people who support them in their pursuit of excellence in competition.

The Bulldogs' athletic schedule continues through the Spring semester, with men's and women's golf, tennis, track and field, and Ferris' softball team competing in the Great Lakes Intercollegiate Athletic Conference.
This Ferris Social question-and-answer interview was compiled by John Smith, News Services and Social Media communications specialist. The mission of Ferris Social is to hear from members of the University community about the work that they do to contribute to Ferris' core values, mission and outreach.
Last updated: 01-28-2016