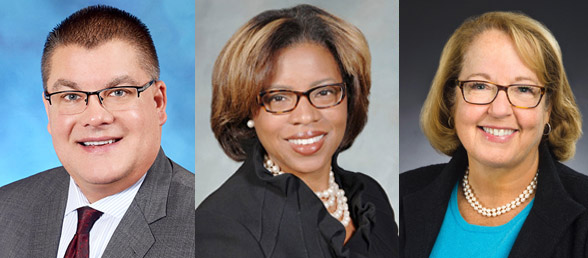 LANSING, Mich. – Amna Seibold, of East Grand Rapids; LaShanda R. Thomas, of Grosse Pointe; and Robert J. Hegbloom, of Clarkston, have been appointed to Ferris State University's Board of Trustees. The appointments were announced by Gov. Rick Snyder on Tuesday, Dec. 20.
Ferris' outgoing trustees are Alisha M. Baker of Mt. Clemens, who has served eight years; Arthur L. Tebo, of Walloon Lake, who has completed 16 years; and Erin R. Brown, of East Lansing, who has decided to step down after four years of service on the board.
The appointments for trustees Seibold and Thomas are eight-year terms, while trustee Hegbloom is appointed to fulfill the last four years of trustee Brown's term. The appointments are effective Jan. 1, 2017.
Ferris President David Eisler expressed enthusiasm for the new trustees and gratitude for the service of the board's outgoing members.
"We are so pleased to welcome Ms. Seibold, Ms. Thomas and Mr. Hegbloom to the Ferris State University Board of Trustees," Eisler said. "Each brings a broad range of experiences to our Board. I very much look forward to working with them to continue the advancement of our university and the education we provide. It has been a privilege to work with trustees Alisha Baker, Erin Brown and Art Tebo. I have learned much from them and our university is a better place because of their service and commitment. Their efforts have strengthened Ferris in so many ways."
Seibold was elected mayor of East Grand Rapids, in 2011, after six years of service as a city commissioner and five years as a planning commissioner. A 1975 graduate of East Grand Rapids High School, Seibold attended Albion College and later earned her master's degree in health administration from the University of Michigan. She is now the director of pathology at Mercy Health Saint Mary's, in Grand Rapids.
Thomas, a certified public accountant for more than 20 years, established The Clairmount Group, PLC, Certified Public Accountants, in 2002, where she is the managing partner. Thomas graduated from Michigan State University with a Bachelor of Business Administration in Accounting. She is active in her community and is a member of the local chapters of Alpha Kappa Alpha Sorority, Inc., the Michigan Association of Certified Public Accountants and the American Institute of Certified Public Accountants.
Hegbloom, vice president of Fiat Chrysler Automobile's Ram Brand International, is a 1986 graduate of Ferris' College of Engineering Technology with a Bachelor of Science in Automotive Management and an associate degree in Automotive Service Technology. In May 2016, he was awarded an Honorary Doctorate of Business and Industry, from Ferris, at its Spring 2016 commencement ceremony. In his career, Hegbloom has advanced from service and parts management to various marketing management positions, before he was named director of truck, commercial and SUV product planning, in 2010. Hegbloom became director of Ram Brand product marketing a year later, and president and CEO of the brand, in 2014. In the two years since, Hegbloom has become head of Ram Brand, nationally and internationally.
"I thank these three individuals for serving on this board and am confident they will do substantial work to ensure the success of the university," Snyder said in a press release issued Tuesday, Dec. 20.
The appointments are subject to the advice and consent of the Michigan Senate.
Other members of the Ferris Board of Trustees are reelected chair Paul E. Boyer, of Ada; newly-elected vice chair Lori A. Gwizdala, of Bay City; immediate past chair Gary L. Granger, of Byron Center; newly-elected secretary Ana L. Ramirez-Saenz, of Rockford; and Rupesh K. Srivastava, of Wixom.

PHOTO CAPTION: Pictured (left to right) are the newest Ferris State University Board of Trustees members, as appointed by Gov. Rick Snyder: Robert Hegbloom, LaShanda Thomas and Amna Seibold.