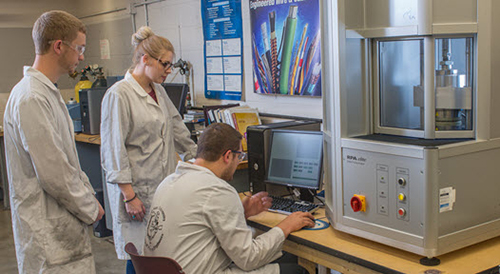 Students in Rubber Engineering Technology courses at Ferris State University are benefiting from an enhanced opportunity in their laboratory sessions, thanks to the donation of an elite rubber process analyzer and sample cutter, which has been provided by TA Instruments, of New Castle, Del.
Plastics and Rubber Engineering Technology professor Marc Guske said the partnership with TA Instruments represents a $275,000 investment by the manufacturer, and came about through persistent negotiation.
"This is the result of discussions over a couple of years with them at the Rubber Expo (International Elastomer Conference)," Guske said. "It will allow our students to do research, and present papers in concert with TA. We also have an area business that is interested in doing testing with the equipment."
The rubber process analyzer and sample cutter have been installed in Ferris' National Elastomer Center, and the equipment is seeing its first use during the Fall 2016 semester. Guske said they greatly improve learning opportunities, in what is known as rheological testing. Users will be able to study the flow of uncured rubber, determine the structure of the material, as well as make specific measurement of the rubber's chemical makeup.
"I think it speaks volumes that TA is willing to make this kind of investment, as this technology is essentially in its infancy," Guske said. "To have the equipment available is great for our students, and the regional business community."
The university looks to collaborate with TA on a series of seminars and workshops, which will address rubber compounding, and the characterization of polymers and elastomers.

PHOTO CAPTION: Rubber Engineering Technology students make use of new equipment provided to the program by TA Instruments, a manufacturer based in New Castle, Del. The elite rubber process analyzer and sample cutter are valued at $275,000, and represent cutting-edge technology to enhance student learning, while offering research capability for businesses in the region.