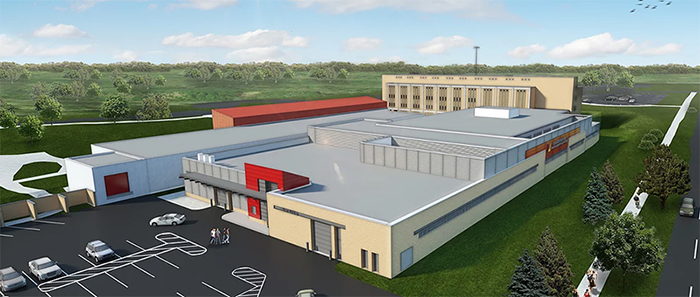 PHOTO CAPTION: The Swan Technical Building Annex renovation and construction project has received final approval from the State of Michigan, which allows work to begin on the site. Above is a conceptual drawing of what the finished building will look like when the project is completed. Below is a exterior photo of the existing building.

The first actions are being taken in the vicinity of the Swan Technical Arts Building Annex, as the state of Michigan has given Ferris State University approval to begin construction work, as part of a $30 million renovation and expansion of the facility.
In early 2017, work begins on construction of more than 34,000 square feet of new space to house Ferris' Center for Welding Excellence and its Center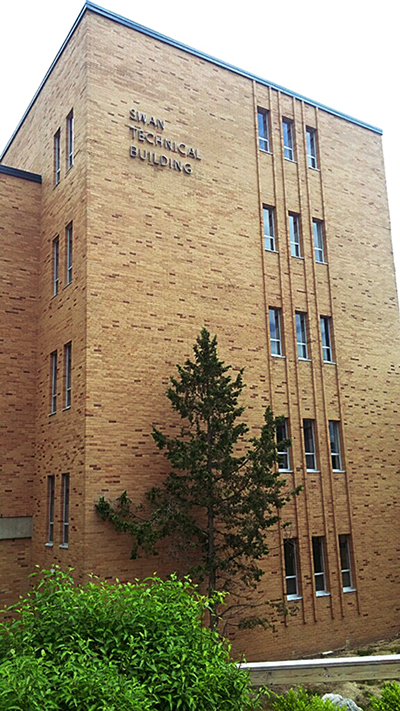 for Advanced Manufacturing. Associate vice president for Physical Plant Mike Hughes, the project manager for the university, said when efforts are completed in August 2018, the Swan Technical Arts Building will comprise more than 81,000 square feet of instructional and office space.
"We have fenced in the worksite, with plans to set up the utilities, and develop the foundation for the new construction during the first few weeks of the project," Hughes said. "Installing structural steel for the expansion of the annex should begin sometime after the first of the year."
Other early December work in and around the Swan Annex included demolition of the existing bridge to the second floor, along with restricting access to entrance doors and overhead doors, in the construction area. Parking Lot 2 closed Dec. 5, with the remaining spaces to be available for use following the conclusion of the construction project. Parking has been added north of the Student Recreation Center to replace some of the parking lost due to the closing of Lot 2.
The Center for Welding Excellence will represent double the current space available to the welding program, while the Center for Advanced Manufacturing will offer upgraded laboratories for Plastics and Rubber Engineering Technology, CAD Drafting and Tool Design, as well as Mechanical Engineering Technology.
The university had requested state support for these improvements for a number of years, as Gov. Rick Snyder toured the facility during an April 2014 visit to Big Rapids. Hughes said word came from Lansing, just prior to the Thanksgiving holiday, that the state's approval process was complete, with permission given for the university to begin work.
"There is definite excitement as we enter into this project," Hughes said. "We hope the campus community will make safety a priority along Ives Ave. as this project and the work to build North Hall nearby will place construction traffic in that area until Fall 2018."
Ferris will contribute $7.5 million toward the completion of this project, in support of a $22.5 million appropriation from the State of Michigan. A website is in development, which will offer project information and updates, along with a link to a webcam at the construction site.