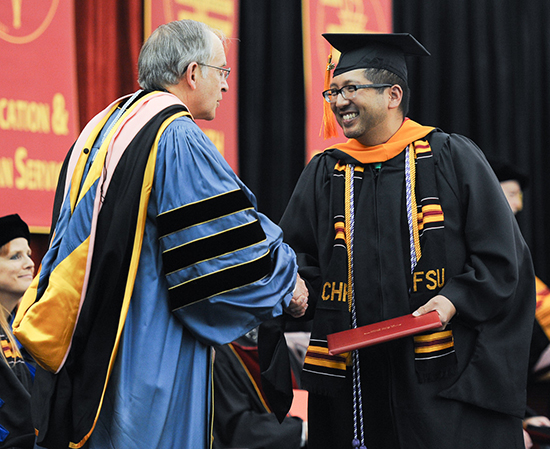 The Fall 2016 semester at Ferris State University will conclude Saturday, Dec. 17, with morning and afternoon commencement ceremonies to honor 1,002 persons, who will graduate from the university.
The Commencement office reported that a total of 1,156 degrees and certificates were earned by graduates, and 700 students will participate in the two Dec. 17 ceremonies.
The morning ceremony begins at 10 a.m., and will honor graduates of the College of Business and the College of Health Professions. Graduates of the colleges of Arts, Sciences and Education, Education and Human Services, and Engineering Technology will be recognized at a 1:30 p.m. ceremony. Both ceremonies will be held in Jim Wink Arena of the Ewigleben Sports Complex, on Ferris' main campus in Big Rapids. Doors will open an hour prior to the start of each ceremony.
Ferris alumna Sharon Colley, the university's 2016 Distinguished Teacher Award recipient, will offer a commencement address to graduates at both ceremonies. Colley earned a Bachelor of Science in Nursing, from the university, in 2000, and her Master of Science in Nursing, from Ferris, in 2006.
"Graduating with my MSN was particularly meaningful for me, because it was something I had been working toward for such a long time," Colley said. "I earned it while working full-time and raising a family. That made me appreciate the accomplishment even more. I think it helps me relate to students who have multiple demands, or who return to school later in life."
Colley said that in her address, she will encourage Ferris' graduates to continue their learning, and pursuit of excellence.
"I hope to share thoughts on how graduates can complement their degrees to be successful in their chosen careers," Colley said. "A degree opens so many doors, and I plan to share ideas from my own experiences and what I've learned from students over the years that can lead to a fulfilling career."
All students who plan to participate in this fall's commencement may request up to seven e-tickets. E-Tickets are required for all commencement ceremonies, with exceptions for children 2 years old and younger. No extra tickets are distributed by the Commencement Office or individual college commencement coordinators. Lost tickets will not be replaced.
For people who are unable to attend commencement, but would still like to watch, the ceremonies will be streamed live over the Internet. A live stream to watch the commencement ceremonies will be available, via Ferris Cable 22.
Click special accommodations for more information related to people with special needs.
Click ticket information to learn more about requirements to attend ceremonies in Big Rapids.
Click commencement for general information about the ceremonies.
The Doctorate in Community College Leadership, Kendall College of Art and Design, Michigan College of Optometry and College of Pharmacy host commencement ceremonies in May.

PHOTO CAPTION: Commencement exercises for the Fall 2016 graduates of Ferris State University will be held on Saturday, Dec. 17. Seven hundred graduates are expected to take part in morning and afternoon ceremonies with their respective university's colleges.