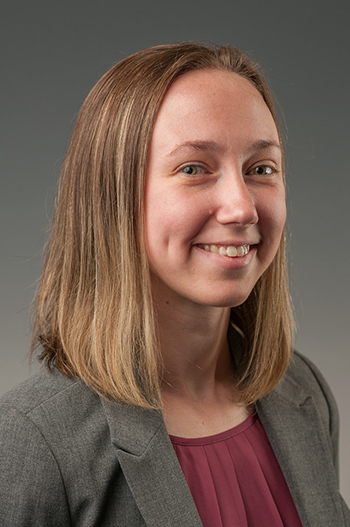 An assistant professor of Optometry at Ferris State University's Michigan College of Optometry has been featured in the American Optometric Association's "Eyes on the Future" electronic newsletter. Dr. Sara Bush considered the rewards of her profession, advice for students of optometry and the merits of the national association in their Optometry Spotlight feature, as part of the August edition.
Bush said her selection is a testament to the MCO's continuing pursuit of excellence, both in research and instruction.
"The program has worked hard to build our national presence, as our Vision Research Institute has largely contributed," Bush said. "The association has taken notice."
Bush, a native of Saginaw, Mich., completed her Bachelor of Science in Vision Science at Ferris, in 2007, graduating with honors. She earned her doctorate from the MCO, in 2010, with High Distinction and completed her residency there the year after, with an emphasis on Pediatrics and Binocular Vision.
Bush began her career in Optometric education at the Massachusetts College of Pharmacy and Health Sciences' School of Optometry, then joined the faculty at her alma mater in June 2014. She said her experiences as an MCO student give her a valuable perspective on her students' learning process.
"Being a younger faculty member that has experienced the program, firsthand, allows me to recognize what the students are going through and provide a unique perspective to my teaching," Bush said. "I attribute my success as an optometrist and as an educator to the faculty and mentors I have had the pleasure of working with, at Ferris, as both a student and faculty member. It's a true testament to the quality of education that we're providing, that a graduate would be recognized in this fashion."


PHOTO CAPTION: Sara Bush, an assistant professor of Optometry with Ferris State University's Michigan College of Optometry has been recognized by "Eyes on the Future," the electronic publication of the American Optometric Association.