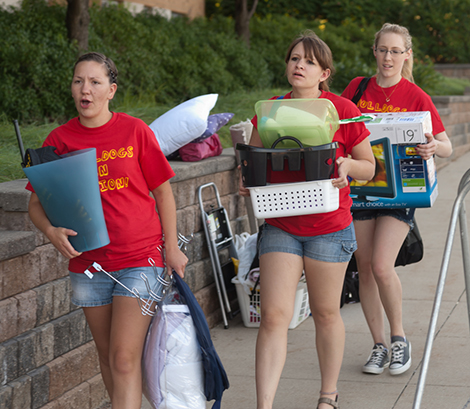 As the final days of August approach, Ferris State University students preparing to move into residence halls are reminded to collaborate with roommates and suitemates.
Lisa Ortiz, the university's assistant director of residential programs and services, said a simple conversation, an exchange of emails, or series of text messages can avoid headaches when students arrive on move-in day, Friday, Aug. 26.
"A quick review of who is bringing what should mean there is enough space for televisions, refrigerators, and the like," Ortiz said. "There is a certain level of excitement surrounding move-in day, and taking the opportunity to share ideas can eliminate confusion, and keep the focus on the fun times ahead."
Ortiz said that there is information available online to offer suggestions on what items would enhance a student's daily experience, studies and personal comfort, as well as providing structure on those things residents cannot bring into the halls.
Registered student organizations and Ferris athletes will support the "Bulldogs in Action" program, and Ortiz said that those groups are pleased to offer assistance with loft materials and other personal property, as students arrive at their residence halls.
"Our Housing and Residence Life staff will be wearing shirts that identify themselves, and they will be ready to answer questions, and offer help," Ortiz said. "We hope students take the opportunity to meet the staff, participate in activities and consider being on hall councils."
Ferris students moving into campus apartments will find those buildings open at 8 a.m. Wednesday, Aug. 24. Honors students can begin their move-in activities Thursday, Aug. 25, though there will be no Bulldogs in Action assistance that day. East Campus Suites and the university's residence halls can be entered at 8 a.m. Friday, Aug. 26.


PHOTO CAPTION: Ferris State University's apartments, East Campus Suites and residence halls will be open for student move-in prior to the first day of fall semester classes, Monday, Aug. 29.