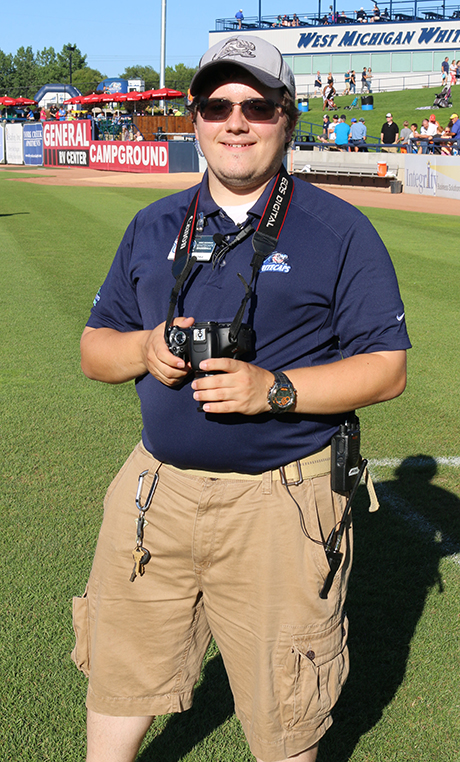 VIDEO: Also see what a TDMP grad finishing up his internship with the Whitecaps has to say about the experience.
COMSTOCK PARK, Mich. – Even when the West Michigan Whitecaps are on the road in their Midwest League baseball season, Ferris State UniversityTelevision and Digital Media Production alumnus and intern Ryan Kamischke finds plenty to do, and learn from, at Fifth Third Ballpark in Comstock Park.
Whether his assignments involve taking portraits of fans throwing "first pitches" in pre-game activities, or producing a video project involving players spreading goodwill in the Grand Rapids area, Kamischke said that he is finding the long hours to be a worthwhile experience.
"I would enjoy a career based in media production for a sports team," Kamischke said. "In a situation like this, you cross paths with everyone in the organization, and collaboration is a key to success in each project."
Kamischke said that his assignments vary, as he takes his cues from Elaine Cunningham, the Whitecap's multimedia manager.
"I had considerable experience at Ferris in remote productions, including broadcasts of Bulldog sporting events," Kamischke said. "I had heard from a previous intern about the opportunities available with the Whitecaps, and it was my first choice among my internship prospects."
After the Saginaw-area native graduated from Ferris, in May 2016, he began his varied duties with the ball club.
"I produced a video documenting some team members visiting a young cancer survivor at his Little League game," Kamischke said. "That piece was fun to work on, and received a lot of positive reaction. I also did the graphics on 11 pages of "The Wave," which is the publication provided to Whitecaps fans at the ballpark."
Kamischke also served as an intern during the spring semester in Ferris' FLITE library, as part of the staff in the Media Production suite. Ryan said that Ferris students preparing to secure their first internship should keep an open mind about what an opportunity might present.
"If you aren't sure, try something new," Kamischke said. "You'll increase your learning, and can pursue a desired goal."


PHOTO CAPTION: Ryan Kamischke, a May, 2016 graduate of Ferris State University's Television and Digital Media Production program, is completing his internship experience with the West Michigan Whitecaps minor league baseball team in Comstock Park.