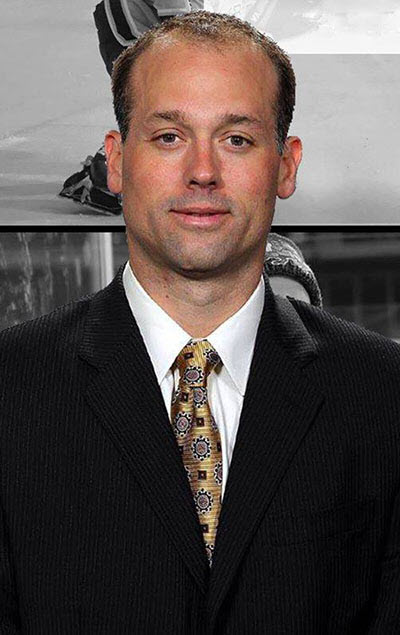 DETROIT – Prior to opening training camp for his second year as head coach of the Detroit Red Wings, Ferris State University alumnus Jeff Blashill will serve as the grand marshal for the NASCAR Sprint Cup Series Pure Michigan 400 on Sunday, Aug. 28 at Michigan International Speedway.
"It's an honor to serve as grand marshal for the Pure Michigan 400," Blashill said, in quotes offered by the team's public relations office. "I was born and raised in Michigan and have had the opportunity to spend most of my coaching career here, so I know how passionate the fans are for all sports. I'm thrilled for the opportunity to meet the drivers, take part in the pre-race activities and soak in the atmosphere on race day."
Blashill became the first American to be named coach of the NHL team on June 9, 2015. The 42-year old then lead the Red Wings to their 25th consecutive Stanley Cup playoff appearance in 2015-16. Blashill joined the Red Wings organization as an assistant coach with the team, in 2011, then lead the Grand Rapids Griffins to a Calder Cup, in 2012-13, which is that franchise's only league championship. Blashill was a goaltender for Ferris, from 1994 to 1998, and began his coaching career as an assistant under current Bulldog head coach Bob Daniels, after graduating from the university with a Bachelor of Science degree in Finance, in 1998.
Current Red Wings players Niklas Kronwall and Jimmy Howard, and former Detroit goaltender Chris Osgood have served as the event's grand marshals in the past. Blashill will give the command to "Start your engines!" at the MIS, in Brooklyn, at approximately 2 p.m. The race will be broadcast on the NBC Sports Network.


PHOTO CAPTION: Detroit Red Wings head coach Jeff Blashill, a 1998 graduate of Ferris State University and an All-CCHA Academic Team member as a goalie in the Bulldog hockey program, will serve as grand marshal for the NASCAR Sprint Cup Series Pure Michigan 400 Sunday, Aug. 28, at Michigan International Speedway.