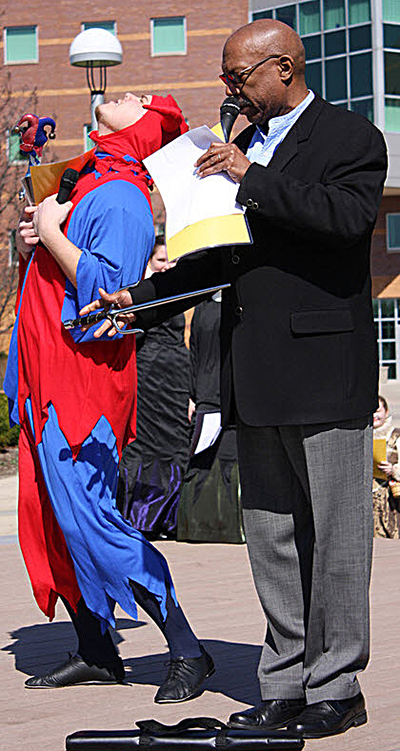 Literature lovers across the Ferris State University campus plan to honor William Shakespeare on Thursday, April 21, in their annual Shakespeare's Birthday Festival on the North Campus Quad.
Students and faculty will take part in the presentations beginning at 11 a.m., and in case of inclement weather, the festival will be hosted in the Rankin Atrium area of the University Center building. Cupcakes have been part of the traditional fare for people in attendance.
Melissa Smith, an assistant professor in Ferris' Language and Literature department, said that they look forward to welcoming area high school students to join in this year's version of the event, which got its start in the mid-1990s.
"Our department collaborates with the Ferris State English Society and Sigma Tau Delta, the international collegiate English honor society, to put on the festival," Smith said. "We're very excited to continue the tradition."
Fellow Languages and Literature Professor Christine Vonder Haar said that organizers began with a group that attempted to read all of Shakespeare's sonnets, but the celebrations have become more performance-related.
"The student-led aspect of the festival has always been enjoyable," Vonder Haar said. "We're hoping the weather is nice, so the festival can take place on the quad."
The revered English dramatist and poet was born in April of 1564 in Stratford-upon-Avon, in what is now known as the United Kingdom. Historians believe that he was born on April 23, based on baptismal records.
PHOTO CAPTION: A variety of Ferris State University groups will host the Shakespeare's Birthday Festival Thursday, April 21 at 11 a.m. Languages and Literature professor Phillip Middleton jokes with a jester at a recent version of the event.