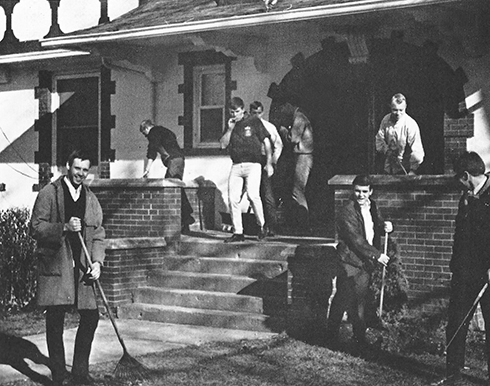 Members of Ferris State University's Pi Kappa Alpha fraternity have planned three days of events Friday, April 22 through Sunday, April 24, to celebrate the 50th anniversary of their charter.
Michael Jackson, a 1998 graduate of the College of Business is the Alumni Board President for the Zeta Kappa chapter. He said that they will begin their Founder's Day celebration with an alumni welcome event on Friday at the Pike House, 607 S. Michigan.
"There will be a 1980s theme for the party," Jackson said. "We normally expect about five to 10 groups of alumni to attend Founder's Day, and it can be an eclectic group. The event has been growing, and we'll be hoping to see dozens of our brothers that weekend."
A variety of events will take place Saturday, April 23, including a golf scramble and alumni participation in the Pi Kappa Alpha International Work Day. The Memphis, Tenn.-based national office of the fraternity describes this as a "day for students, alumni, parents and guests to chip in, and improve a chapter house and grounds."
Jackson said that there will be a mix of routine and unique elements, as the chapter's business meeting Saturday will be followed by a dinner and awards ceremony.
"We'll be voting on a new chapter advisor, an alumnus to head up a committee for our fraternity," Jackson said. "We will also be initiating an honorary chapter member, Randy Hansen, a retired 36-year deputy of the Montcalm County Sheriff's Department."
Jackson said that Hansen is a neighbor of the Pi Kappa Alpha home, and was given assistance by their members during a time of personal struggle in the last few years. Current and former fraternity brothers decided to make the membership offer to Hansen, as part of their anniversary celebration.
"We're excited to be extending this opportunity for Randy to join our chapter," Jackson said. "Following his initiation, the celebration will continue."
Organizers plan to wrap up the golden anniversary celebration with a farewell breakfast Sunday, April 24.
Two other fraternities on the Ferris campus are also holding 50th anniversary celebrations this spring. The Zeta Beta chapter of the Alpha Phi Alpha fraternity will gather from Thursday, April 28-May 1 at the Holiday Inn Hotel and Conference Center, and Ferris' University Center. The Phi Sig's 50th anniversary is planned for Friday, May 13-15, also at the Holiday Inn Hotel and Conference Center.

PHOTO CAPTION: Pi Kappa Alpha brothers were hard at work on the yard of the Pike House, located at 607 S. Michigan in Big Rapids in the formative years of the Zeta Kappa chapter. The fraternity will celebrate its 50th anniversary with a number of events from Friday, April 22 to Sunday, April 24. (Photo courtesy Ferriscope, 1967)