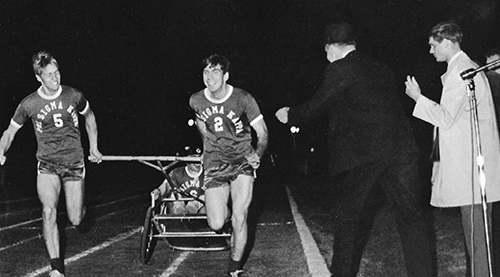 The Sigma Epsilon chapter of the Phi Sigma Kappa fraternity will celebrate its shared history and collective memories in a 50th anniversary celebration in and around the Ferris State University campus, and Big Rapids, Friday, May 13 through Sunday, May 15.
Mark Viel, a 1974 graduate of Ferris' College of Business and a Big Rapids attorney, said that the alumni will start their weekend celebration with a Friday evening welcome reception at the Sawmill Saloon, 1003 Maple St.
"One of our brothers, Ronald "Tubba" Tabaczka, was a bartender there when it opened, and the dollar bill he put above the front door is still there," Viel said. "He's coming in from Montana to be honorary bartender for the evening. We have brothers from 22 states who are coming in for the weekend."
The fraternity is known as the Phi Sigs on the Ferris campus, in part because of its shared history between Phi Sigma Kappa and Phi Sigma Epsilon. In 1966, the Lambda Pentaton chapter was chartered with Phi Sigma Kappa's Grand Chapter. Phi Sigma Epsilon's Sigma Epsilon chapter was chartered in 1968, and a combination of the chapters came about in 1985, following inactivity of the Lambda Pentaton group. Brothers from both fraternities continue in the Sigma Epsilon chapter. Viel said regardless of their origins, their alumni board has worked for two years on an event they believe will be enjoyable.
"There are guys who were Phi Sigs, in the 1960s, who went off to Vietnam and will be making their first trip back to Ferris for this event," Viel said. "I remember my fraternity brothers by their nicknames, 'Dog,' 'Dumbo' and 'Bird Legs.' The Sigma Epsilon house at that time was at the end of a gravel road, which is now Perry Street, a five-lane highway. At that time, M-20 ran along what is now 15 Mile Road, where Big Rapids High School, is now. The guys are not going to recognize some things."
A variety of events are planned for Saturday, May 14, and Viel said after dozens of their brothers play a round of golf at Falcon Head, south of Big Rapids, they plan an early afternoon walking tour of the university campus.
"A lot of guys dated girls who lived in Helen Ferris Hall, and many of those couples wound up getting married," Viel said. "While the hall has been removed, to expand the Campus Quad, I'm sure those who take the tour will be able to see what changes like that mean to the current campus."
A 4 p.m. Ritual Exemplification is planned for the Holiday Inn Conference Center, as longtime Alumni Board Secretary Carl Peterson's surviving brother, Chris, will become an honorary member of Phi Sigma Kappa. Viel said their anniversary banquet and program will begin at 5:30 p.m.
"We are welcoming Scott Jacobson, the president of our fraternity's Grand Chapter, and John Sheehan, the Phi Sigma Kappa Foundation president," Viel said. "They'll be joined by members of our Grand Council, and we're really looking forward to it."
Sunday's activities are planned for Ferris' University Center, with a 10 a.m. Farewell Breakfast followed by a Phi Sig Alumni Association meeting at 10:45 a.m.
"We know we'll see well over 200 brothers, spouses and friends at various points on the weekend, and with the most stubborn ones starting to register, it wouldn't surprise me to reach 250 to 300," Viel said. "You can't put a value on being able to see such good friends, and the chance to enjoy their company again."

PHOTO CAPTION: The Sigma Epsilon chapter of the Phi Sigma Kappa fraternity will hold a 50th anniversary celebration in Big Rapids, and on the Ferris State University campus Friday, May 13 to Sunday, May 15. In this photo Phi Sigma Kappa brothers compete in a chariot race in the formative days of their charter. (Courtesy: Ferriscope 1967)