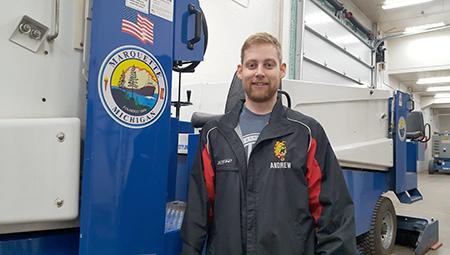 MARQUETTE, Mich. –Marquette loves its hockey, and a Ferris State University alumnus is spreading the word to support the Upper Peninsula city, and its Lakeview Arena in the Kraft Hockeyville USA 2016 contest.
Marquette's Lakeview Arena is one of 10 hockey rinks across the country to have already earned at least $10,000 in facility upgrades, for being selected as a contestant in this online competition. The community is pleased, but not satisfied with this achievement, because the contest's Grand Prize boosts the facilities award to $150,000, and includes the opportunity to host a preseason National Hockey League game, to be televised on the NBC Sports Network.
Andrew MacIver, a 2013 Ferris graduate with a Bachelor of Science in Facilities Management, serves as the parks and recreation coordinator for the city of Marquette. A lifelong hockey enthusiast who played for the Big Rapids High School hockey team, and later worked in Ferris' Ewigleben Ice Arena as an undergraduate, MacIver has now found himself in "hockey heaven" in Marquette.

"We are very excited for this opportunity," said MacIver. "We have an amazing community of people who are truly passionate about the game of hockey. We couldn't be more proud to represent the state of Michigan in the Kraft Hockeyville USA 2016 contest."
Perhaps the focal point of Marquette's bid is the city's Lakeview Arena, home to numerous hockey programs and a central location for hockey in that part of the state. Lakeview Arena hosts Marquette Junior Hockey, the Marquette Figure Skating Club, the Marquette Royales of the United States Premier Hockey League, Marquette High School and the Marquette Iron Rangers of the Great Lakes Hockey League, an elite men's amateur circuit. The city is also home to Northern Michigan University, an NCAA hockey champion and member of the Western Collegiate Hockey Association.
The contest promotes hockey community spirit, nationwide. Communities have banded together to show the country why they deserve to be Kraft's Hockeyville USA 2016 Grand Prize winner.
Fans from anywhere can assist the Marquette/Lakeview Arena bid, as phase one of voting in the contest begins at 12 a.m. on Tuesday, April 12, and continues to 11:59 p.m. on Thursday, April 14. MacIver hopes supporters can boost Marquette and Lakeview Arena to the second phase of voting, and second-prize status in the contest. Ultimately, top vote-getters will represent their divisions in Grand Prize balloting to select Kraft Hockeyville USA 2016. For more details, log onto Kraft Hockey for contest rules, and to vote.

Additional notes about hockey in Marquette:
The first rink established in Marquette was an outdoor surface, in 1869.
In 1929, the Palestra, Marquette's original rink was moved from Laurium, in Houghton County, Mi. and reassembled in Marquette, where Northern Michigan University's Berry Events Center is currently located.
In 1924, Marquette High School team fielded its first hockey team.
In 1954, the Detroit Red Wings played two exhibition games in Marquette. The first one was at Marquette Branch Prison, vs. the prison pirates – an outdoor game against inmates. The Red Wings then played the local professional team, the Marquette Sentinels.
Marquette is the boyhood home of Weldon Olson, a two-time member of the U.S. Olympic hockey team, who earned a silver medal in 1956, and a gold medal in 1960.
In 1973-74, the Carlson Brothers made their professional debuts in Marquette. They wowed and excited the crowds with their aggressive play, but were soon offered bigger contracts in Johnstown, Pa. The "Hanson Brothers" were modeled after the Carlsons, a significant plot element in the classic hockey film, "Slap Shot."
Karen Koch was the first female goaltender to play semi-pro for the Marquette Iron Rangers.
Marquette High School has won five state championships, with the most recent title coming in 2008, following an eight-overtime tie with Orchard Lake-St. Mary's.
An additional note about Lakeview Arena:
It was previously the home of the Northern Michigan University hockey team, who were 1990-91 NCAA Champions. Northern Michigan now plays at the Berry Events Center.
The full list of the 10 finalists:
Rockville Ice Arena in Rockville, Md.
Lake Placid Olympic Center Arena in Lake Placid, N.Y.
Lakeview Arena in Marquette, Mich.
Bridgewater Ice Arena in Bridgewater, Mass.
Twin Ponds Family Complex – East in Harrisburg, Pa.
Rushmore Thunderdome – Rushmore Hockey Association in Rapid City, S.D.
Pagel Activity Center in Minnetonka, Minn.
Fox Valley Ice Arena in Geneva, Ill.
Maysa Arena – Minot Park District in Minot, N.D.
Nytex Sports Center in North Richland Hills, Texas
Click Lakeview Arena to learn more about the Marquette-based facility.

PHOTO CAPTION: Ferris State University Alumnus Andrew MacIver, coordinator of parks and recreation for the city of Marquette, Mich., is shown here on the job in the Upper Peninsula.