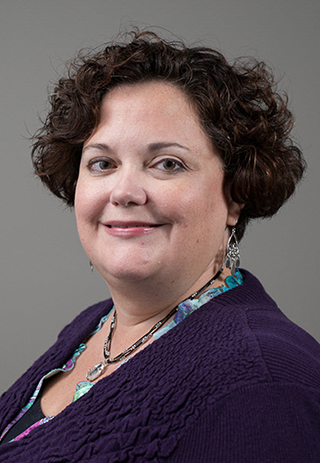 Languages and Literature Instructor Denise Cosper has a larger community role as director of education for Artworks, a non-profit organization that promotes the arts in Big Rapids and the Mecosta County area. Artworks was honored with the 2015 Community Involvement Award by the Big Rapids Downtown Business Association. Cosper has been with Artworks for a little more than a year, and has taught Technical Writing and Business Writing at Ferris State University since the Fall 2013 semester.

Cosper recently spoke with the News Services office about her involvement in the arts, and teaching writing at Ferris, as well as promoting better writing skills among school-age students.
News Services: Beyond being an adjunct instructor in Languages and Literature at Ferris, you serve as director of education for Artworks. How are you able to encourage participants to pursue their own creative expression?
Cosper: I have discovered, through the classes we offer, here, that if I can do it then anyone can do it. If someone is willing to teach a class, we are willing to offer it and see if there's community involvement. We do private parties where people come and decide they want to paint, or come in as a group and create a painting. We involve elementary, middle and high school groups with Artworks, we have field trips for fourth graders to learn about art. During Festival of the Arts, we hosted many events including The Flamenco Dancers, a musical "zoo" facilitated by Ferris music students, and the Festival closing where 150 community members came together. We love any opportunity that we have to showcase Artworks and how flexible it is for programming. We partner with the Downtown Business Association, trying to offer something when they have an event going on, such as presenting music during their chili cook-off during Fall Festival, and when there are parades, either for Ferris, Big Rapids' homecoming, or the Christmas parade. We try to be a hub for the community, all different parts of Big Rapids, Mecosta County and Osceola County, for anything that is remotely related to the arts.
News Services: The Big Rapids Downtown Business Association recently recognized Artworks with a Community Involvement Award. What are the challenges the organization faces in terms of growing its audience and gaining support for its programs?
Cosper: Funding is always one of the challenges, we have a grant writer who is part of our staff trying to get money to support the programs that we have, for all the different parts of the community we serve. Space is another consideration, as we like to have a lot of different things going. During the Festival of the Arts, we have had times where nearly every space in this building available for classes or artist demonstrations was being used. Sometimes we're competing with other organizations for the public's attention, so we're trying to be creative with our scheduling.
News Services: Are you serving separate worlds teaching on campus, and being part of the staff at Artworks? Are Ferris students aware of, and receptive to what's being offered there?
Cosper: Sometimes I feel that way, because the students don't necessarily know Artworks exists. One of the things we're working on is offering volunteer opportunities for students. A lot of students in registered student organizations and the Honors College require volunteer hours, so we're working with them to provide opportunities. We've had the volleyball and hockey teams in for events with exhibits, so we're slowly making inroads with the Ferris community, trying to get students more involved with Artworks. We'd like to have an artist oversee an open studio, probably Friday nights, once or twice a month. It would be available to students, anyone in the community and we'd provide our pottery studio, any art supplies and our space in our downstairs classroom to create anything they choose.
News Services: You offered local teachers a professional development seminar last fall on how to help students become better writers.
Cosper: I have connections with the middle school, as I have children in the middle and high school, I've been on the parent-teacher organization there, and the middle school principal, Lenore Weaver asked me to provide professional development for our teachers, and I said "Sure!"
News Services: Are considerations like social media and electronic device use an impediment, an aid or no factor in nurturing young people to explore and develop these abilities?
Cosper: There are lots of good things coming from technology that can impact writing, and communication. Sometimes students feel more connected to the people they left behind, that grew up with them. The challenges I face, both as a teacher and a parent, are those that go along with feeling connected, but not really being connected with those you're around. You're always connected to your device, and I love my phone. But, being that connected to people that are not with you sometimes keeps you from being connected to people right in front of you. It happens in a classroom, in a social environment when you are out at dinner, it happens in a professional environment when people are on their devices in a meeting. I think it's a challenge in a written and oral perspective, but if the people with the devices are willing to overcome it, they can do it.
News Services: Is there a willingness among your contacts, whether it's Artworks or in your Ferris classes, to put in the effort necessary to write well, and expressively?
Cosper: I think it depends on the individual's personality. Some students, in their own minds, are more talented in the sciences or math than they are in language arts. In the Business Writing class I teach, I am able to get most of my students to understand the need to be able to communicate well in a business setting. I tell them, "You're going to be using email all the time when you get out in the workplace, and you have to be able to communicate your ideas. You're not going to be able to call everybody that you need to deal with." They don't come into the class thinking about email as a tool for business, but after we go through the course and review concepts, they feel they're going to use electronic communication when they get into their careers. We talk about how to craft a message to get results, what order to put the information in, how to make it where it's about your audience, not about you, as the writer.

I have had students come back a year or two after graduation, particularly in my work in Mississippi and they'd go, "Oh my, I didn't realize how much the stuff I learned in your class was going to matter when I got out into the working world, until I did it."
News Services: Do you feel like you're encouraging a willing audience, or fighting a losing battle?
Cosper: It depends on the semester and the class. If it seems like an unusual effort is needed, I have some strategies I have used in my 14 years of teaching that have worked before. If I have 23 students in my class, I would not say all of them have come around to the idea that writing is important by the end of the semester, but I would say that half, and sometimes three-quarters of that group get the message.


PHOTO CAPTION: Denise Cosper, an instructor in Ferris' Language and Literature program in the College of Arts, Sciences and Education also serves as Director of Education at Artworks, a non-profit promoting the arts in Big Rapids and greater Mecosta County.