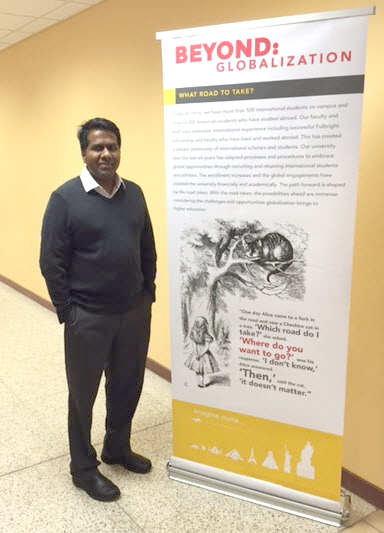 The pursuit of global considerations and multicultural experiences on Ferris State University's campus continues Thursday, April 28, as Beyond: Globalization hosts an interactive banner exhibit in the University Center.
Piram Prakasam, executive director of the Office of International Education, said that this event will complete the fourth year of Beyond, a university-wide initiative intended to inform, engage and inspire students, faculty and staff, and to encourage them to embrace global opportunities.
"There will be more than 40 banners in the exhibit, with faculty, staff and students serving as presenters, ready to engage in discussions about the issue or concept that each display addresses," Prakasam said. "In the last several years, many university groups have collaborated to create a more inclusive and globally aware campus, which embraces the richness and the diversity that the world can bring to it."
The exhibit is focused on three concepts, including the "Why?" of globalization, as it impacts the university's pursuit of excellence and the success of all students. Prakasam said that other themes address the opportunities for global engagement available to faculty and students by leveraging university resources, and the efforts made campus-wide to support international students who have chosen to attend Ferris.
"The OIE has been become more effective in its recruitment of students from other countries and continents in the last eight years, as we have grown from around 40 international students, to approximately 500," Prakasam said. "A variety of offices and departments have helped us to bring in, and retain students who seek the opportunity Ferris can provide to them. This emphasis on inclusiveness and becoming a more global university benefits our native students, as well as the international community."
The Beyond: Globalization exhibit will be presented from 9 a.m. to 1 p.m. on Thursday, April 28 in Room 202 of the University Center. Representatives from Ferris' partner universities in Botswana, Germany, Italy, Ireland, the Netherlands and other areas will participate in the event. Prakasam said that all those who attend and work at Ferris will benefit from attending, and engaging in the dialog on how globalization is transforming higher education.
"We are hoping the staff across campus will get involved, as they have an important role in Ferris' initiatives with respect to globalization," Prakasam said. "This is a chance, as an institution to be part of the conversation about the direction of the university."


PHOTO CAPTION: Piram Prakasam, executive director of Ferris' Office of International Education will be among the presenters in Beyond: Globalization, an interactive banner event Thursday, April 28 in room 202 of University Center.