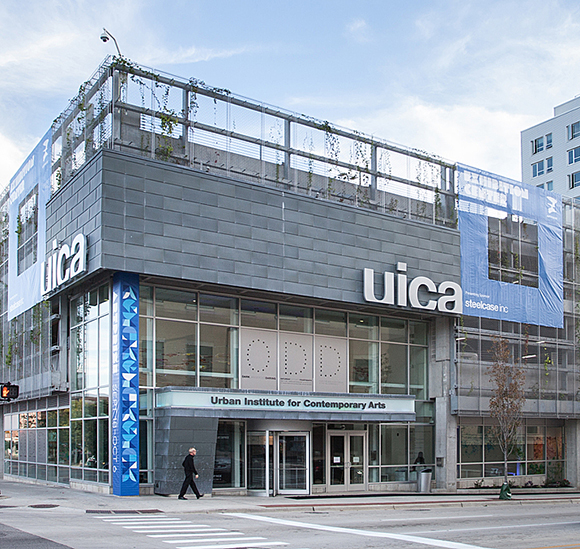 GRAND RAPIDS — The Urban Institute for Contemporary Arts of Kendall College of Art and Design of Ferris State University was shortlisted on Tuesday, Sept. 29 for an ArtPrize Outstanding Venue by juror Steven Matijcio, curator at the Cincinnati Contemporary Arts Center. One of the exhibition artists, Tamara Kostianovsky, was shortlisted for the 3D Award, which was juried by Sarah Urist Green, an Indianapolis-based curator, creator and host of The Art Assignment. Also, ArtPrize released the current Top 25 popular vote-getters in each of four categories. Four of UICA's six SENSE artworks are currently among the top 25 popular vote lists.

The ArtPrize 2015 category award jurors revealed their shortlist of five artist entries in the categories of 2D, 3D, Installation, and Time-based on a live broadcast shown WOOD-TV on Monday, Sept. 28. These twenty finalists will be in the running to win their respective $12,500 category awards, and ultimately the $200,000 Juried Grand Prize. A fifth category award juror selected five ArtPrize venues to compete for the $12,500 Outstanding Venue award.

Artist Heather Brammeier, whose work, 'This Mortal Coil,' is currently one of the Top 25 public vote getters in the installation category, said, "I love that even though the six pieces in SENSEwere created separately, they are all honored by the juror's nomination of the UICA for the Outstanding Venue award. I can't thank curator Heather Duffy enough for including me in the exhibition with amazingly talented artists."

The juried category award and Grand Prize winners will be announced at the ArtPrize Awards on Friday, Oct. 9.

UICA's collection of entries for its seventh outing as an ArtPrize venue is titled SENSE. Seven artists are presenting six works, which span all of UICA's gallery spaces.

Tamara Kostianovsky (Relic) was born in Israel and raised in Buenos Aires, and currently resides in New York City. Most recently she has been awarded the John Simon Guggenheim Memorial Foundation Fellowship, a Pollock-Krasner Foundation Grant, and a Franconia Sculpture Park/Jerome Foundation Fellowship. Asked about her ArtPrize experience thus far, Kostianovsky said, "As artist we struggle over many years to build an audience for our artwork. Artprize accelerates this process by providing an unparalleled level of exposure during a concentrated time and space."

Charles Jevremovic (Technician 3) lives and works in South Bend, IN. He was recently a part of the Birdsell Project in downtown South Bend. Technician 3 is an iteration of his installation in the Birdsell Mansion. Jevremovic said that ,"One of the reasons people have found Technician is because UICA has the reputation for being a top venue that is willing to take risks. This year UICA has really outdone itself. With SENSE, curator Heather Duffy has put together such a focused experience. Having only six artists in the space gives our work the opportunity to "breathe." There is room for each work of art to really have an effect on the viewer, to really seep into the consciousness. Each artist brings something different to the experience of SENSE. I'm honored to be part of this group and grateful to Heather for including me in it."

Heather Brammeier (This Mortal Coil) lives and works in Peoria, IL. She is represented by Moberg Gallery in Des Moines, IA, has exhibited her work regionally and nationally, and is currently an Associate Professor of Painting at Bradley University in Peoria, IL. Brammeier said that she, "…is so glad that people are enjoying spending time in my installation. I wish I could be there to see people sitting in the triangle structures, taking selfies with the installation, and exploring different vantage points on the Terrace exhibition space. I often tell people that artists just want people to see their work and appreciate what they do. The UICA's exhibition SENSE has given me a larger audience than I have ever had before.

Michael Peoples (The Great Race) lives and works in West Michigan. His artwork has been exhibited at the Urban Institute of Contemporary Art in Grand Rapids, Muskegon Museum of Art, SiTE:LAB, Holland Area Arts Council, and the Fire Barn Gallery in Grand Haven, where he was recently an artist in residence.

Sara Dittrich and Ben Buchanan (Symphony of Gestures) are a collaborative duo based in Baltimore, MD. Dittrich, who received a BFA in interdisciplinary sculpture from the Maryland Institute College of Art, creates objects, installations, and performances to investigate the dynamic acts of listening, communicating, and moving. Buchanan is beat boxer, pianist, composer, and performance artist who holds Master of Music degrees in Music Composition and Music Theory Pedagogy from the Peabody Conservatory. Dittrich said, "As young emerging artists, we have already learned a lot through the opportunity to exhibit at UICA. This experience feels like our "debut" into the art world in some ways, as we are both recent college graduates with our respective Bachelor of Fine Arts and Master of Music degrees. From the practicalities of budgeting and finding local musicians, to making new contacts and networking, this experience has taught us a lot about how to approach and implement future exhibition opportunities. We are both quite excited to walk through the doors which ArtPrize continues to open for us."
SENSE is on view:

5 to 8 p.m., Mondays
12 to 9 p.m., Tuesday through Saturday
12 to 6 p.m., on Sunday through Oct. 11
Exclusive UICA and ArtClub Member hours are 10 a.m. to 12 p.m., Friday and Saturday
UICA is located at 2 Fulton West, Grand Rapids, Mich.

A full list of the UICA artist entries follows:

Technician 3, Charles Jevremovic, Installation, Top 25 Popular Vote, Vote Code: 61298
This Mortal Coil, Heather Brammeier, Installation, Top 25 Popular Vote, Vote Code: 62142
The Great Race,Michael Peoples, Installation, Top 25 Popular Vote, Vote Code: 61433
Symphony of Gestures, Sara Dittrich and Ben Buchanan, Time-Based, Top 25 Popular Vote, Vote Code: 61863
Relic, Tamara Kostianovsky, 3D, Juror's Shortlist, Vote Code: 61230
(extra)ordinary, Jiyun Hong, Installation, Vote Code: 62248

UICA's SENSE exhibition is supported by the Michigan Council for Culture and the Arts, the National Endowment for the Arts, Meijer, UICA Members, and the donors to UICA's ArtPrize 'Arts for All' Challenge on Crowdrise.com.