Ferris State University faculty, staff and students come from all over the world with one thing in common- Ferris as ultimately their No. 1 choice. In the Ferris First series, we chat with members of the University community to learn more from them about why Ferris was their No. 1 choice.
They all have a story. Here, we tell part of that story. Meet: Haylee Luedtke: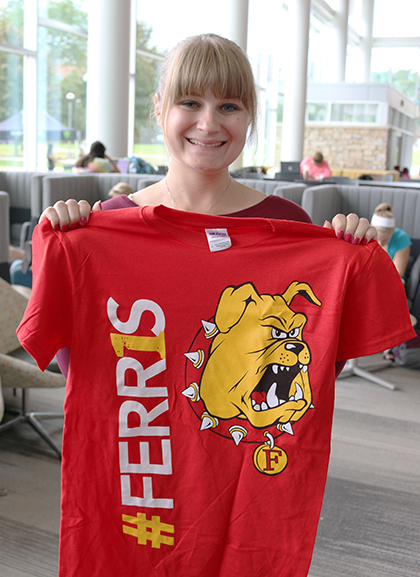 She is: A senior from Lake Orion, Mich. majoring in Business Administration and Health Administration.
What do you like most about Ferris? Haylee appreciates the community nature to the whole campus and opportunities to get involved.
What do you enjoy about your academic major? Being able to study what interests her within her major as an important selling point for Haylee.
What student organizations are you involved in and why? Alpha Xi Delta, Panhellenic, Order of Omega, Student Government, Health Care Management Association and Honors. Haylee really likes to get involved around campus.
How is Ferris preparing you for your future? By giving her lots of opportunities to grow as a person – not just as a student.
Why should Ferris be a top choice for others? Because as a student, you get so many opportunities here that you wouldn't get anywhere else.
What's the best part about being at Ferris? The opportunities and awesome people here.
Why was Ferris your number one choice? Haylee appreciates Ferris' small size of main campus and classrooms. She also noted that she liked the scholarship opportunities Ferris has to offer.