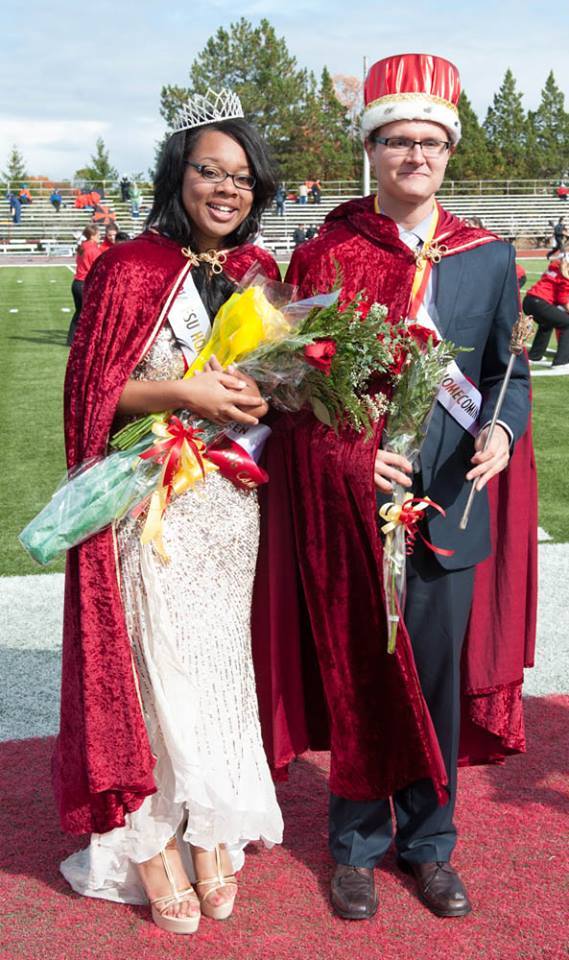 Ferris State University's students, alumni, family and friends will find opportunities to reconnect and celebrate Sept. 21-26, as homecoming 2015 activities are held on the Big Rapids campus.
This year's homecoming theme is "Home is Where the Dawg Is." Director of Alumni Relations Brandi Behrenwald said that the Alumni Association is excited to present the university's 59th annual reunion in the fall for the first time on Friday, Sept. 25, beginning at 5:30 p.m. in the University Center.
"We hope the move allows all alumni and their families to enjoy the festivities, including Saturday's parade, Reunion Row with our tent, and all the other colleges and departments putting on tailgates," Behrenwald said. "The atmosphere is festive, and they should enjoy their time back on campus."
Ferris' Class of 1965 will be inducted into the Golden Eagle Society at the reunion, and a number of current students and alumni will be honored.
This year marks the 89th homecoming in Ferris history. Homecoming was established at Ferris in 1926 and has been celebrated in consecutive years since (except for a one-year furlough during World War II).
Monday night's Lip Sync Competition is a popular annual homecoming event. Justin Stevenson, a member of the student homecoming committee, said that individuals and groups presenting at 7 p.m. in Williams Auditorium on Sept. 21 could opt for favorites from "Cats," "Rent," "West Side Story" or "The Lion King" this year.
"Broadway is something that shows a person who they are and what kind of talent they have," Stevenson said. "We wanted to do something different this year, to bring someone out of their box, out of their comfort zone."
As master of ceremonies for the Lip Sync Competition, Stevenson will also introduce and interview homecoming royalty candidates. Student Activities Coordinator Nick Smith said beginning this year, in keeping with Ferris' core value of diversity, student voting will select two candidates to be honored as homecoming royalty.
"It's much more inclusive, it's also more up-to-date of a process, more gender-neutral titles in opening that up," Smith said.
In past years, a homecoming king and queen were chosen.
Smith said the homecoming Kickball Tournament Tuesday evening, Sept. 22 and other events on the schedule are funded through the Finance Division of Student Government, replacing participant entry fees.
"This year, we've been able to eliminate those fees," Smith said. "We want more students to take part, now the financial aspect shouldn't be a barrier."
The Live United Color War and 5K run scheduled for Sunday, Sept. 20 has been postponed, as rain expected prior to the event is likely to impact the condition of the intramural fields. Those who had registered and paid for the event can secure a refund through the Center for Leadership, Activities and Career Services.
Monday, Sept. 21 will see residence hall and departments judged from noon to 5 p.m. in a homecoming decoration contest. That evening at 7 p.m., the Lip Sync Competition will be held in Williams Auditorium.
The kickball tournament Tuesday, Sept. 22 will be held at Top Taggart Field at 7 p.m., with check-in starting at 6:30 p.m.
Wednesday, Sept. 23's Comedy Show, featuring Bo Burnham, will begin at 7 p.m. in Williams Auditorium. Tickets are free and will be distributed, one per person, at the ticket office beginning at 5 p.m.
The United Way Carnival and Dawg House competition will run from 3 to 7 p.m. Thursday, Sept. 24 in the North Quad.
On Friday, Sept. 25, the Alumni Fall Reunion begins at 5:30 p.m. in the University Center, and the Homecoming Bonfire starts at 8 p.m. in Lot 61, between Brophy and McNerney halls.
Homecoming activities on Saturday, Sept. 26 begin at 10 a.m. with a Helen Ferris Hall brick giveaway at the Alumni Welcome Tent, in Lot 36. The Black Alumni and the College of Arts, Sciences and Education open their welcome tents at that hour, and the College of Engineering Technology starts their popular chili cook-off. Tailgating begins at 11 a.m., and the College of Business joins its peers on Reunion Row at that time.
The annual parade starts at noon in downtown Big Rapids, and the homecoming football game features the Bulldogs against Saginaw Valley State at 2 p.m. at Top Taggart Field, with homecoming royalty announced at halftime.
The week's activities conclude with a Black Alumni Social at The Gate Entertainment Center from 9 p.m. to 1 a.m.
PHOTO CAPTION: Shown here are the king and queen winners for Homecoming 2014, Jazmine Goode, left, was elected, queen, while Evan Pazkowski, right, was elected as king.