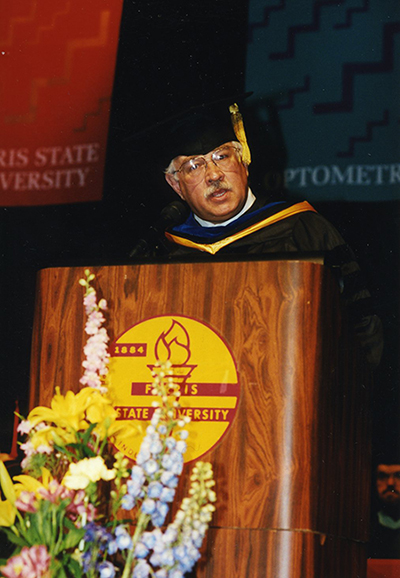 Ferris State University is sad to announce the passing of Lon Green, a longtime College of Arts, Sciences and Education professor.

Green, a Ferris employee since 1985, died in an accident on Sunday, Sept. 13.

In 30 years, Green served as an administrator, program coordinator and faculty member in the Humanities department. He taught numerous Communication classes, and his professional interests included: conflict resolution, leadership and relationships communication.

Green earned a bachelor's degree from the University of Nevada, a master's degree from Utah State University and his Ph.D. from Kent State University, in Ohio.

Visitation will be hosted at the Mohnke Funeral Home in Big Rapids in Thursday, Sept. 17 from 6 to 8 p.m. Mohnke Funeral Home is located at 128 S. Warren Avenue in Big Rapids. The funeral will be held on Friday, Sept. 17 at the Church of Jesus Christ of Latter-day Saints in Big Rapids. The church is located at 1325 Woodward Avenue.

Lon Green's obituary and complete service information is posted on the Mohnke Funeral Home website.

Student and employee counseling services are available. Employees should contact Holly Williams, in Human Resources, at (231) 591-3874 while students can contact Renee Vander Myde, in the Counseling Center, at (231) 591-5968.