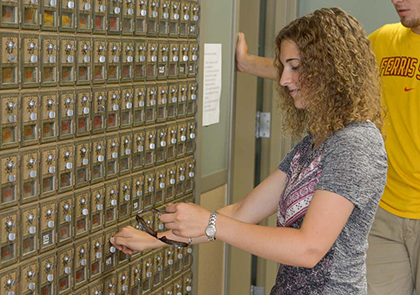 This fall, 14,715 students are enrolled on Ferris State University campuses, systemwide, officials announced on Friday, Sept. 4 – including 10,216 students on main campus in Big Rapids.
The 14,715 total enrollment figure, a university record, marks an increase of 115 students from the Fall 2014 total of 14,600. This semester's main campus total has increased by 259 students over the previous fall semester's mark of 9,957. Ferris President David Eisler was pleased by this fall's enrollment numbers. He commended the effort and time invested by many faculty and staff who collaboratively make Ferris a first choice for students and families.
"This reflects the very hard work by our people to tell the good story of a Ferris education," Eisler said. "It's clear that the career-oriented personal attention that Ferris provides is a significant interest to students, and our numbers reflect this. I'm very proud of our university, our university community and everyone who makes Ferris such a welcoming place."
In addition to an increase in overall enrollment, officials also announced that the number of student credit hours being taken increased by 233 to 166,686 this fall. Online student credit hours increased by 1,517 from Fall 2014 to Fall 2015. Jeanine Ward-Roof, vice president for Student Affairs, saluted the innovative outreach efforts being made, by staff, to reach students in ways in which they increasingly prefer communication.
"The staff implemented a number of innovative practices to reach students who could be successful at Ferris," Ward-Roof said. "It is great to see that their efforts paid off and enabled us to welcome so many new students to Ferris as well as our continuing students back to Ferris."
In addition to the freshman class, Ward-Roof noted Ferris' efforts toward strengthening retention of previously-recruited students. First-year to second-year retention for all students increased from 71 to 75 percent, with first-year to second-year bachelor's student retention increasing from 72 to 80 percent. Kristen Salomonson, dean of Enrollment Services and director of Admissions and Records, agreed and likewise noted that the collaborative commitment to recruiting and retaining students.
"Our enrollment is the result of the collaborative efforts of faculty, staff, alumni and current students in sharing information about the quality academic programs, engaging student life and comprehensive support services at Ferris," she said. "When we speak with prospective students and their families, it is clear that more than ever they view the college they select as a critical investment in their future. Our numbers are a tangible indication that students recognize the value of a Ferris degree."
Diversity in this fall's enrollment numbers reflected strong gains in Hispanic and international student enrollment. Ferris' Hispanic student population increased by 140 students, over the Fall 2014 total, to 696 this fall. The number of International students has increased by 97 to a Fall 2015 total of 536.
Enrollment for the Spring 2015 term was 14,146 students, overall, and 9,618 on main campus. More than 1,000 students graduated during commencement in December 2014.
PHOTO CAPTION: In late August, students began moving into Ferris State University residence halls in preparation for the start of the Fall 2015 semester of classes.