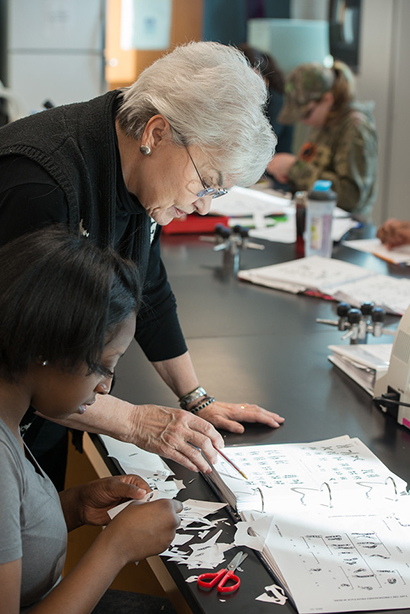 "Diversity" is one of Ferris State University's core values, and the university's efforts at increasing diversity are reflected in its Fall 2015 enrollment figures.
The student body increased, systemwide, by 115 for a record enrollment of 14,715 – compared to the Fall 2014 total. Ferris enrolled 97 more international students, 27 more African American students, 10 more students of two or more races and three more students of Native Hawaiian/Pacific Islander descent.
However, the largest diversity-related increase came in the enrollment of Hispanic students, which increased 140 over Fall 2014.
"The continued growth and retention of Hispanic students at Ferris State University represents many years of committed effort to connect with communities in west Michigan, to make Ferris a welcoming place, and also represents the success of our Center for [email protected] Studies," said Ferris State University President David Eisler.
One of the initiatives in this area is the Woodbridge Promesa Summer Success Program. The program is open to students who have just completed their junior year of high school and who meet program academic and ACT score requirements. Curriculum includes math, reading and a course designed to strengthen college study methods. The program offers rising high school seniors the opportunity to earn 12 free college credits for unique admissions consideration Ferris.
Executive Director of Ferris' Center for [email protected] Studies Jessica Cruz highlighted Promesa and the way in which the program ties together academics and culture by working with community partners.
"The Center for [email protected] Studies works to get students to college and through college by building on the strengths of students' culture and identity. To do so, we built place-based, community-university partnerships to launch the Promesa Educational Pipeline," Cruz said. "The Promesa Educational Pipeline features the Woodbridge Promesa Summer Success Program in three locations: Grand Rapids, Holland, and Shelby/Hart. We intentionally partner with local school districts and community institutions to celebrate and connect the assets of students' culture and identity to the curriculum."
Ferris' Vice President for Diversity and Inclusion David Pilgrim noted the positive news on diversity is the result of particular actions undertaken by the Ferris community.
"We have worked hard to create a university that is truly diverse and inclusive," he said.
One of the unique resources at Ferris is the Jim Crow Museum of Racist Memorabilia, which uses objects of intolerance to teach tolerance and promote social justice. Founded by Pilgrim, the museum is used by students, faculty, visitors and scholars from around the world. Many news and media outlets have highlighted its mission and drawn upon its resources, including The New York Times, Boston Globe and Denver Post. The museum also was featured in a segment of Henry Louis Gates Jr.'s PBS series, The African Americans: Many Rivers to Cross.
The increase in international students stems in part from several university programs that further its goal of being globally aware. One of these, BEYOND, is an initiative sponsored by the Center for Global Studies and Engagement in partnership with faculty and staff. The 2015-16 BEYOND focus on globalization promotes an international outlook and awareness with year-long cultural offerings, while Ferris' annual International Festival of Cultures celebrates the rich global cultural diversity of Ferris students.
"The University has increasingly diversified its student body, this is, for us, a source of pride," Pilgrim said. "The growing diversity of our student body is evidence of our commitment to living our core values."