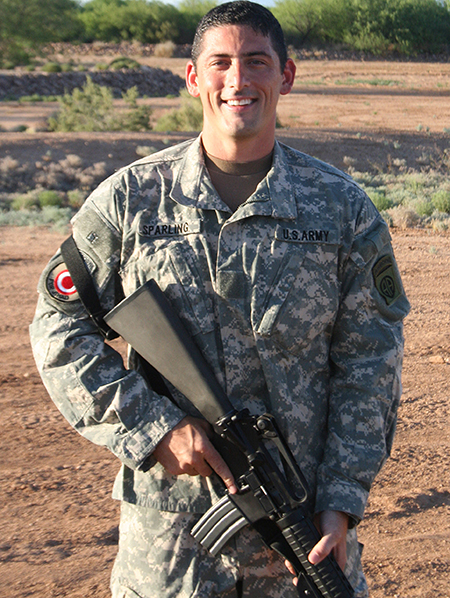 TUCSON, Ariz. – Joshua Sparling did not place limits on his pursuit of excellence after he lost his leg serving in Iraq as an Army sergeant in 2005.
The Ferris State University alumnus is continuing on his professional path as a 2015 Tillman Scholar at the University of Arizona's James E. Rogers School of Law. Sparling graduated cum laude from Ferris, with a Bachelor of Science in Criminal Justice, in 2012.
Steven Amey, now an associate professor in Ferris' School of Criminal Justice in Big Rapids, had Sparling as a student in several classes at St. Clair County Community College, and the university's satellite campus in Port Huron, Mich.
"I have had a lot of students cross through the door, and I knew, to look at him, that Sparling was astute and that he understood what was required to succeed," Amey said.
Amey said that he was made aware of Sparling's military rank and service, though early on, Sparling did not speak often of his time in Iraq or recovery thereafter.
"When you have someone who has had that kind of responsibility on their shoulders, you know that they have developed what they need to be a great student," Amey said.
As he completed his bachelor's degree, Sparling served as a Washington, D.C. intern in the office of Republican U.S. Congresswoman Candice Miller, of Michigan. Becoming a Veteran's Defense Outreach Coordinator in her district office in southeast Michigan, Sparling worked on policy that was presented in Congress, and said that helped him decide to continue his education.
"I helped with the claims of veterans, I wanted to be able to work on a more personal level," Sparling said. "Working on the policies was what gave me the desire to go to law school."
Congresswoman Miller first met Sparling at Walter Reed National Military Medical Center, where he began a concerted effort to overcome his disability after following his initial treatment and therapy.
"I was able to get in my wheelchair and saw other soldiers who were worse off than I was," Sparling said. "That's when the pity train stopped and I started to see what I could do. I started mixed martial arts to work on my balance, to regain my cardio."
Sparling took to running five-kilometer and 10-kilometer races. He took time off from his duties in the congresswoman's office to assist in a Department of Defense-funded study of prosthetics, undergoing tests on a SWAT course with other military amputees in 2013. For good measure, he also joined a mountain climbing expedition.
"I heard, from one of my buddies, that a bunch of vets were going," Sparling said. "It took us seven days to climb Mt. Kilimanjaro and made it to the top on Veterans Day, which was really something."
His pursuits are now more academically focused, as Sparling is in his second year as a student in the James E. Rogers School of Law. Sparling said he entered with the intention to pursue a policy position in a congressional office, but by employing a philosophy of "keeping my mind open and my mouth shut, and seeing what I enjoy," his options may have grown.
"All of a sudden, contract law seemed pretty interesting, criminal law jumped right out at me and there's still the Veterans Advocacy Clinic," Sparling said. "I pursued criminal law this last year, I'm working with the state attorney general's office, here, in Tucson. You have to constantly be on your toes and try to soak up as much as possible."
Sparling was successful in his second application to the Pat Tillman Foundation to become one of 60 scholars this academic year.
"The first time was before I even started law school," Sparling said. "I was just curious about it. The second application, this year I took a little more seriously and put a lot more effort into it. Thankfully, I was chosen. Now, a bunch of avenues are opening up, there are constant decisions to be made, forks to turn onto."
Tillman scholars are brought to Chicago for a summit each year and Sparling said the foundation has allowed him to make contacts with Department of Justice officials, and with industry leaders. Sparling can remain a Tillman Scholar during his third year of law school, if several foundation criteria are met.
Sparling said all these experiences combine with the demands of being a young father, as he and his wife Laura have three children: Justin, 5; Isabella, 3; and Jack, 1. Sparling said that it was "interesting" to follow all these pursuits cross-country from his Fort Gratiot, Mich. home.
"It's always a rollercoaster ride, you never know what's going to happen," Sparling said. "I got a really great opportunity to go to the James E. Rogers College of Law. I asked my wife and she said, 'I support you,' so I thought, 'Let's go for it, you only live once.'"
The Chicago-based Pat Tillman Foundation noted that thousands of post-9/11 era military veterans apply each year to become Tillman Scholars. They are chosen based on their "strength in character, academic excellence and incredible potential."
Pat Tillman was an Arizona State University graduate and a first-team Academic All-American who gave up his NFL career with the Arizona Cardinals to enlist in the Army in 2002. He died in 2004 in eastern Afghanistan while providing cover for fellow soldiers caught in an ambush.
PHOTO CAPTION: Ferris State University alumnus Joshua Sparling has been selected as a 2015 Tillman Scholar. He is a second-year student at the University of Arizona's James E. Rogers College of Law. (photo courtesy of the Pat Tillman Foundation)