Ferris State University faculty, staff and students come from all over the world with one thing in common- Ferris as ultimately their No. 1 choice. In the Ferris First series, we chat with members of the University community to learn more from them about why Ferris was their No. 1 choice.
They all have a story. Here, we tell part of that story. Meet: Donald Lloyd: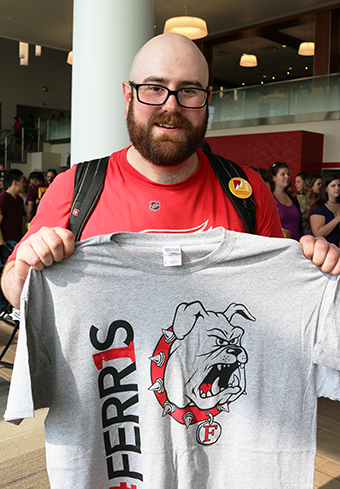 He is: A junior from Southgate, Mich., who is studying Elementary Education.
What do you like most about Ferris? Lloyd, cited the faculty and small campus.
What do you enjoy about your academic major? Lloyd enjoys the staff that are helping him, and the fellow students.
What student organizations are you involved in? Lloyd is a member of Kappa Delta Pi and the Association of Future Educators.
How is Ferris preparing you for your future? Ferris is preparing him for his future by giving him the chances to get in a classroom and some hands-on learning.
Why should Ferris be a top choice for others? The campus is awesome, as well as the size of campus.

You can get anywhere on campus within 10 minutes.
What is the best part about being at Ferris? The best part is the community of students that Ferris has, Lloyd said.
Why was Ferris your number one choice? Ferris was Lloyd's number one choice because of the size of Ferris. It's not too big, but not too small, he added.