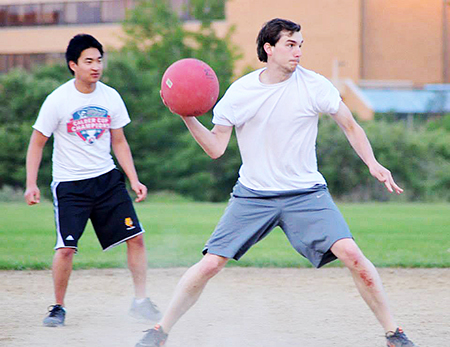 Ferris State University's Intramural Department will host the first annual Residence Hall-ympics beginning on Sunday, Nov. 1 and will conclude on Wednesday, Nov. 4.
Residence Hall-ympics is a weeklong competition that will foster team building, and a sense of belonging amongst Ferris' on-campus communities.

Participation is open to students living on campus. This includes residence halls, on-campus suites and apartments.
"The purpose of Residence Hall-ympics is to give students a break from their studies by engaging in healthy competition and building friendships with students in their same living arrangement, or community," said Briana Slager, recreation sports assistant.
The teams will play in a series of daily tournaments. The following tournaments will be offered:
Sunday, Nov. 1: Battleship tournament located in the Student Recreation Center pool;
Monday, Nov. 2: Bubble soccer tournament located on Top Taggart Field;
Tuesday, Nov. 3: Kickball tournament located at the Intramural Fields; and
Wednesday, Nov. 4: Yard game tournament located on Top Taggart Field. This includes ladder ball, Giant-Jenga, Tug-o-War and Cornhole. A crowning ceremony will follow the tournament.

Teams must consist of students from the same community, but one community can have multiple teams. Teams can have a maximum of ten players, and must include males and females.
Registration will conclude on Friday, Oct. 30. There is a $10 registration fee per player. To register visit the on-campus Student Recreation Center. The first 20 teams to register will be eligible to play. Prizes will be given to the winning team.

PHOTO CAPTION: University staff member Kevin Bunce prepares to throw out his opponent during an intramural kickball match.