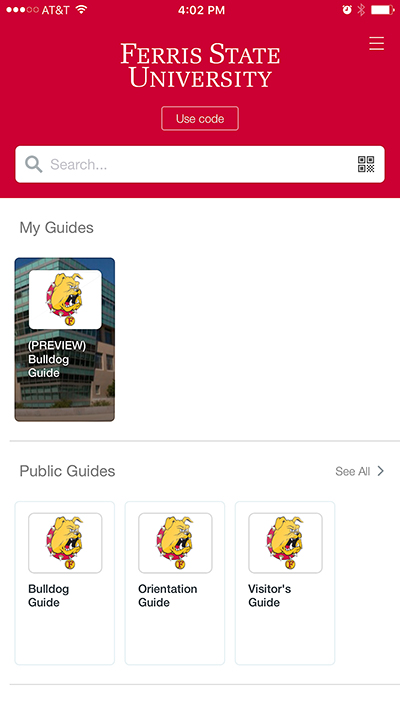 Ferris State University's Admissions Office has launched a new guide within its Ferris State University Guides app for students to utilize on their smart phones. The new Bulldog Guide serves as a tool for students to quickly find all the answers to their questions as well as to be social with their peers.
This summer, Admissions purchased the Guidebook app and created a guide for those attending orientation, as well as visitors on campus for daily visits or Dawg Days. The guides provide potential students and guests with information that can be helpful during their visit as well as other informational tools to enhance their Ferris experience. As a result of positive feedback, Admissions created a guide within the application that benefits current students.
"We really wanted to develop a guide that encompassed all of the 'need-to-know' information for current students; then take that information and make it easily accessible by putting it in one spot," said Arielle Borkovich, a senior in Public Relations and the content creator for Ferris' Guidebook app. "I asked around and searched through the university's website and came up with information that I, as a current student, thought was useful, yet otherwise hard to locate if you're unsure of exactly what you are looking for on the website."
The Bulldog Guide features an abundance of information that highlight a variety of topics, including: Living on campus, transportation, financial aid, scholarships, #FERR1S spotlights, the FLITE Library, the Student Recreation Center, campus events and more.
"The Admissions Office took it a step further, this year, and had a new campus map made. The map is featured within the Bulldog Guide," Borkovich said. "Using the map within the guide is so much easier since you don't have to keep turning and refolding a hard-copy map. The Bulldog Guide allows you to search a location and in turn it will pinpoint that location on the new map, in addition to the parking map so you can make sure you're in the right lot."
The Bulldog Guide can be downloaded on mobile devices by going to the App Store or the Google Play Store and searching "Ferris State University Guides." Once the app is downloaded, users can click on the Bulldog Guide.