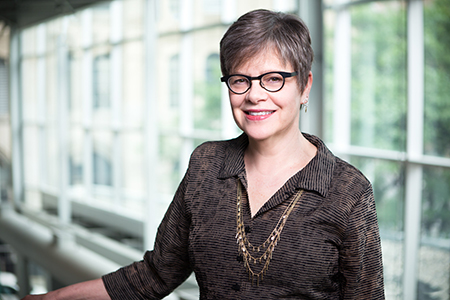 GRAND RAPIDS, Mich. – New leadership brings excitement and anticipation, and both have been in abundance at Kendall College of Art and Design of Ferris State University since President Leslie Bellavance took office this past July.
Bellavance has been busy since arriving in West Michigan, spending the past three months familiarizing herself with KCAD's creative ecosystem before jumping right into a new academic year and of course, ArtPrize. On Thursday, Nov. 5, the entire KCAD community will take some time to celebrate Bellavance and her vision for the future of the college with an inauguration ceremony held at Fountain Street Church.
Bellavance is the 13th president to serve KCAD since the college was founded in 1928. She brings with her 35 years of experience in higher education, a broad résumé of professional artistic practice, and an impressive track record of helping drive larger conversations surrounding the arts and creative education. She is also very active nationally in the arts, serving on the board of directors for the College Art Association, the National Association of Schools of Art and Design, and the National Council of Arts Administrators. Part of her vision for KCAD's future involves expanding the college's reputation and influence on the national and international stages, and her experience will be a valuable asset.
"Leslie's ability to listen and observe has really enabled her to make an immediate impact on our community," said Ron Riksen, Interim dean of the college. "She's immersed herself in both the culture of KCAD and our position within the larger community of West Michigan, and she's been very supportive of the direction we want to go in. We're confident that we will continue to experience positive and forward-thinking growth under her leadership."
The celebration will also feature a special exhibition of Bellavance's artwork inside The Fed Galleries @ KCAD. Bellavance has been featured in more than 40 group and solo exhibitions in the U.S. and Europe and has been active in program development and as a curator for alternative art centers such as West Hubbard Gallery in Chicago, Woodland Pattern Book Center in Milwaukee and the Walker's Point Art Center in Milwaukee. She has also written and lectured extensively on contemporary art. Her articles, essays, and reviews have been published in such journals as Sculpture Magazine, Art Papers and The New Art Examiner.
"Leslie's experiences as an artist and an academic professional give her a unique perspective on the value KCAD offers to our students, our employees, and the surrounding community," said Sandy Britton, dean of Student Success. "Because of that, she's been able to quickly build meaningful relationships, both on here campus and with our external collaborators and partners."
Continuing to strengthen KCAD's relationships with the surrounding community is another a key component of Bellavance's vision, and existing community partners have expressed a strong desire to meet her efforts.
"My colleagues and I are very excited about the arrival of Leslie Bellavance as the new President of KCAD, and we are excited to continue--and expand--the many ways which our two organizations collaborate, innovate, and move the creative community of West Michigan forward together," said Dana Friis-Hansen, CEO of the Grand Rapids Art Museum.
Bellavance also serves as a vice president of Ferris. Since assuming office at KCAD, she has made it a priority to continuing building the relationship between the institutions.
"Leslie Bellavance brings to Kendall College of Art and Design an extraordinary background as an artist and arts administrator," Ferris President David Eisler said. "She is a consummate and skilled professional who brings a national perspective on art and design, and arts accreditation. Throughout her career she has fostered arts programs of national prominence. We are delighted to welcome Leslie to Grand Rapids and look forward to celebrating her inauguration as president of Kendall College of Art and Design."

PHOTO CAPTION: Pictured is Leslie Bellavance, the new president of Kendall College of Art and Design of Ferris State University. An inauguration event will be hosted to officially welcome the new president to KCAD and Ferris.