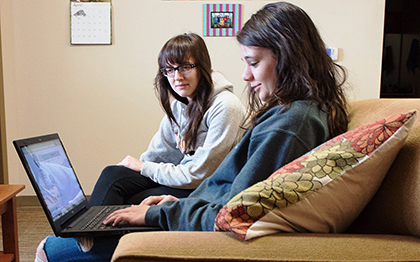 Ferris State University has been named Michigan's best online college in the Affordable Colleges Online rankings for the 2015-16 academic year.
A total of 67 accredited colleges across the state offer online instruction, and 11 were ranked in the "Best Online Colleges in Michigan" report. Ferris was given top honors for program elements including a self-assessment quiz, to help a prospective student determine if online learning is best for them.
Deborah Thalner, Ferris' executive director of online education said that the university was not unique in offering this review, but its e-learning management advisory team felt it was important to outline differences between online instruction and traditional classwork.
"It's critical to the success of an online student," Thalner said.
The advisory team is comprised of faculty, staff and administrators from all of Ferris' colleges, and Thalner said their input, along with student feedback has been essential in making upgrades to class content.
"Having that cross-disciplinary, cross-functional team makes that a much more robust system than if you have just one department who was working on the online activity," Thalner said.
Ferris offers 20 bachelor's, certificates, master's degree and graduate certificate programs that are mostly or fully online. In their report, Affordable Online Colleges highlighted the university's accommodations for guest students, allowing some pursuing certificates, continuing education credits or attending a few courses to bypass certain elements of the admissions process.
Beyond the state-based program honor, Ferris' Bachelor of Science in Heating, Ventilation, Air Conditioning and Refrigeration Engineering Technology was rated third nationally in the website's "Best Online Engineering Degrees" ranking.
"It's wonderful to have that recognition for Ferris State University and the great works that our faculty are doing in the online environment, to bring our programs to a larger audience," Thalner said.