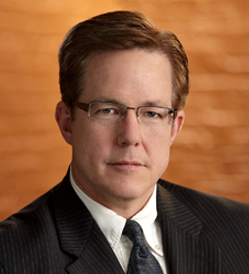 TRAVERSE CITY, Mich. – Jack Roberts has provided his business expertise to Ferris State University for more than a decade. The Traverse City, Mich. businessman has now agreed to give of his time and abilities to support the university's academic mission, as the latest member of The Ferris Foundation Board of Directors.
Roberts is president and CEO of Peak Positions, a search engine optimization firm that is rated one of the top 20 SEO companies in the world. He has worked closely with Ferris' University Advancement and Marketing division for nearly 15 years, and began his collaborations with top-level companies in 1999, as he offered leadership to a variety of Internet marketing and corporate advertising campaigns.
Carla Miller, executive director of The Ferris Foundation, is excited by Roberts' in-depth knowledge of Ferris' academic offerings, degree programs and course content.
"It's our extreme pleasure to welcome Jack to The Ferris Foundation Board of Directors," Miller said. "He is an energetic and engaging individual, with a real passion for the university and its mission. We're looking forward to Jack's contributions to the team."
The university's Board of Trustees approved Roberts' appointment to The Ferris Foundation Board of Directors at its Oct. 8 meeting in Grand Rapids, Mich.
"It's very exciting to join the foundation board at Michigan's most dynamic university, one that responds to the changing needs in the marketplace quickly and efficiently," Roberts said. "Ferris is serving so many families here in Michigan, working so hard to keep college affordable, and also deliver career-oriented education."
Prior to establishing Peak Positions, Roberts enjoyed a successful career in media sales and management in the Detroit area with corporations such as CBS-TV, Viacom and Greater Media. He was recognized as the 1988 Salesperson of the Year by Great American Broadcasting for radio sales in Detroit, and earned the Rising Star in TV sales award from Storer Communications, also based in Detroit.
Roberts graduated from Wayne State University with a Bachelor of Arts in Mass Communications, majoring in Radio, Television, and Speech, with a minor in Documentary Film production. He played on the baseball team at Wayne State, and was a member of three GLIAC championship teams during his days on the diamond. In his spare time, Roberts enjoys playing tennis and distance running, and has taken to following the Ferris athletics teams at home, and on the road.
"I have always been a big fan of the Bulldogs, and will continue to encourage their success," Roberts said.
Roberts is married, and lives in Traverse City with his wife, Stefee, and daughter, Autumn, who is a reigning high school state champion in tennis.