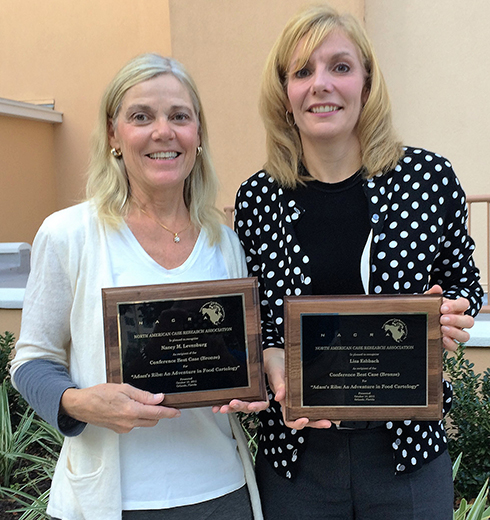 A Ferris State University associate professor of Management has been honored by the North American Case Research Association for her collaboration with a Grand Valley State University professor, a written case study on the viability of an Oregon man's food truck proposal.
Ferris' Lisa Eshbach created the instructor's manual for "Adam's Ribs, an Adventure in Food Cartology," while GVSU's Nancy Levenburg conducted the interview with her son, Adam, to research the case, or illustrative model for use in higher education instruction and discussion. At this year's NACRA conference, held in Orlando, Fla. in October, their work was one of two Bronze award-winning entries, selected for the honor from 75 eligible cases among eight professional tracks.
"Many professors want to work from primary information," Eshbach said. "Adam's story is something that students can relate to."
Eshbach said most case research materials are developed for use by educators in business disciplines, though health care, technology and engineering are among the other subjects cataloged by Harvard Business Review, McGraw-Hill and other organizations. She estimated that 40 hours of work went into the interview process to develop documentation of Adam's business case, writing those instructional materials intended to foster discussion, and developing strategy proposals that would maximize his success. The time investment to develop a case and IM can vary greatly, due to variable factors, including the availability of interview subjects and data analysis.
"Nancy and I focus on being objective, as I think it applies to 'putting theory into practice and developing critical thinking,' which is included in Ferris' core values," Eshbach said. "The cases are real situations happening out there, factually-based information, dealing with real problems that have to be solved."
Eshbach said when a case is examined in a Best Case competition, there will be two or three blind reviews of the materials. There were nine cases presented on subjects involving entrepreneurship, small business and family business at the most recent NACRA conference, which were examined in Roundtable sessions to benefit the authors of these works. Eshbach said she has been attending these conferences since 2009.
"I walked away from that first conference feeling the association was trying to help me be a better writer," she said.
Eshbach said while the key to successful story telling in a case is objective presentation of the details, the instructor's manual can include more subjective concepts, to support classroom activities. A case manual can lead to between 90 minutes and three hours of review and classroom discussion, depending on student response and involvement.
The professors have also developed a case study regarding the Michigan Department of Corrections' prisoner re-entry program. Eshbach said there were greater logistical implications with interviewing several participants to develop that work, and production of the case and IM involved more than 100 hours of work. The case will be published in the Fall 2015 edition of the Case Research Journal (Vol. 35, ed. 4).
Eshbach spent considerable time with NACRA executives at this year's convention, as she was recently elected vice president of communications for the association. Her duties in that role will include supervision of, and contribution to the association's newsletter, which is distributed to approximately 2,000 past and present members who have submitted case studies in the last several years.
"We'll look to present a recap of 2015, and prepare for our 2016 conference in Las Vegas," Eshbach said.
NACRA executive board members are focused on encouraging greater involvement from past case contributors, as approximately 500 members are active in the association. Eshbach said NACRA's president, Janis Gogan of Bentley University and their president-elect, Randall Harris of Texas A&M University-Corpus Christi are committed to keeping the field of case research timely and vital, as they respond to researchers, case writers and teachers in Europe, South America and the Middle East.
"They are encouraging and edifying, looking to keep members engaged," Eshbach said.
NACRA recognized the best case written in French, and the best case written by an author from outside North America at their 2015 convention.

PHOTO CAPTION: Ferris State University associate professor of Management Lisa Eshbach (right) was honored, along with Grand Valley State University's Nancy Levenburg by the North American Case Research Association, at NACRA's 2015 convention in Orlando, Fla.