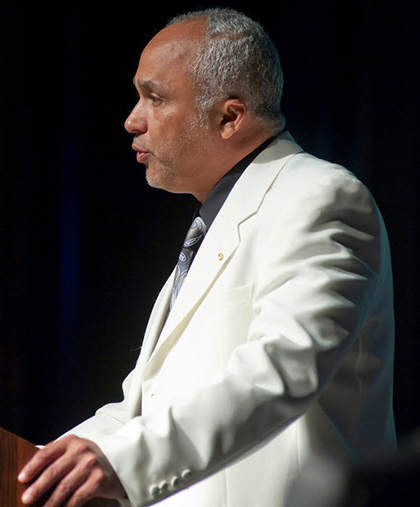 An ad hoc committee will begin reviewing applications later this month, as the Faculty and Staff Diversity Mini-Grant Program continues at Ferris State University.
The President's Office, the Office of Academic Affairs and the Diversity and Inclusion Office created the mini-grant program in 2008, supporting awards of $500 to $5,000 for new and innovative projects, workshops and activities meant to strengthen excellence in diversity and inclusion. The program fund receives $20,000 for each fall and spring semester.
The application deadline for programs starting after Jan. 1, 2016 is Nov. 13. Two more periods for mini-grant application, review and award distribution will follow in the 2015-16 academic year.
Vice President for Diversity and Inclusion David Pilgrim said the ad hoc committee, comprised of three faculty and two staff members will seek proposals that are consistent with the university's mission and core values. That criteria includes collaboration, as applicants are required to represent teams of at least three people.
"Indeed, only proposals that demonstrate well-thought-out plans for collaboration are funded," Pilgrim said. "I believe that diversity necessitates collaboration and excellence."
The ad hoc committee makes recommendations to the VP for Diversity and Inclusion for final approval. Mini-grant awards can be used for a variety of purposes, including but not limited to:
Guest speakers on a diversity topic;
Special program(s) intended to increase respect for diversity and individual differences;
Equipment or other material items used to support under-represented or under-served groups;
Projects to enhance and support the recruitment, retention, and development of a diverse full-time faculty and staff; and
Events that expand the inclusion of issues related to race, ethnicity, gender, gender identity, sexual orientation, age, social class, physical ability or attributes, religious or ethical values system, national origin, and political beliefs.
The application criteria, mini-grant rubric, application form and the final report document required of successful applicants are available on the mini-grant website.
Faculty and staff interested in more information can contact Patty Terryn in the Diversity and Inclusion Office at (231) 591-3946.

PHOTO CAPTION: Ferris State University Vice President for Diversity and Inclusion David Pilgrim is lead administrator for the annual Diversity Mini-Grant program. The application deadline for consideration of programs starting after Jan. 1, 2016 is Friday, Nov. 13.