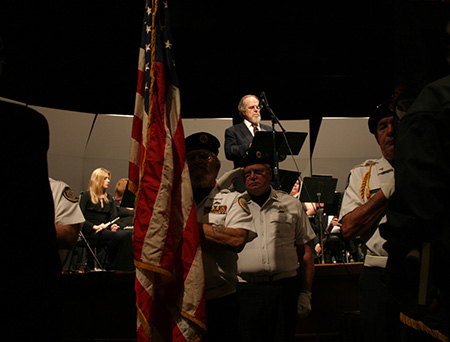 The West Central Concert Band of Ferris State University is hosting its 13th annual Veterans Day Concert on Sunday, Nov. 8 beginning at 4 p.m. in Williams Auditorium.
More than 70 woodwind, brass and percussion players participate in the West Central Concert Band, a mix of Ferris students and community members.
"With this concert, we celebrate the vital role that our veterans and active military personnel have provided and continue to provide for our nation," said Richard Scott Cohen, professor of Music and director of instrumental concert ensembles. "The concert will also include the performance of a special musical selection featuring music from all five branches of service, and we will invite our veterans, active military personnel and their family members to stand and be recognized upon hearing their anthem."
Individuals and organizations participating in the concert, include:
Phi Alpha Theta History Honor Society/Club History/History Week
Student Veterans Association; Richard DeVoe, coordinator
Holland Park Veterans and Homefront Heroes Memorial; Jean Bennett, coordinator
Mid-Michigan Honor Flight; Patricia Donegan, director; and Ron Snead, speaker
Croton American Legion Post 381 Honor Guard; Dave Twining, coordinator
James Cook, assistant director of Public Safety, welcome address
David Eisler, president of Ferris State University, guest conductor
Amber Johnson, Ferris student veteran speaker
Beyond: Globalization
Dale Skornia, guest conductor
Donna Smith, announcer
Dave O'Neil, bagpiper
John R. King, vocalist
The musical and theatrical selections, include:

Korean War
"Objects in the Mirror are Closer than they Appear"
This is a one-act, one-person play written by Jim Samuels and performed by Al Aikin.

World War II
"Victory at Sea"

Persian Gulf / Wars with Iraq & Afghanistan / War on Terror
"Wahabitas"

Civil War
"The Last to Defend"
This commemorates the first ironclad warship battle: Virginia vs. Monitor.

Vietnam War
"Chorale and Shaker Dance"

The Panama Canal
"The Pathfinder of Panama"
The featured selection here will be centennial celebration of the canal and of this Sousa March.

Veterans
"Armed Forces Salute"
This selection includes anthems for all five branches of service.

Patriotic
"Star Spangled Banner" (the national anthem)
"God Bless the U.S.A."
The West Central Concert Band is in its 24th concert season. The WCCB is comprised of area musicians, including Ferris students, adult community members from the region, as well as musicians from area high school music programs. The band is sponsored by Ferris as part of its "Music for Life!" program.