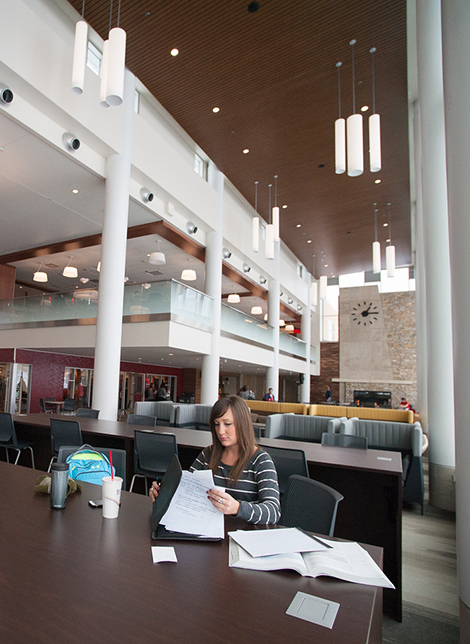 Ferris State University's Board of Trustees approved tuition rates for the 2015-16 academic year at its regular meeting on Friday, May 8 in Big Rapids. The 2.65 average increase includes an increase of 2.41 percent, for lower division, and a 2.89-percent increase for upper division. Kendall College of Art and Design students will see a 2.89-percent increase in tuition for general education courses and a 2.85-percent increase for studio courses.
Trustees also approved a preliminary 2015-16 general fund operating budget. This budget includes $189 million for main and regional campuses and $22 million for KCAD. The university's total preliminary budget for the next fiscal year is $211,282,083.
The Board acted to rename the College of Pharmacy building, in Big Rapids, the "Hagerman Pharmacy Building." In February, alumnus Phil Hagerman and his wife, Jocelyn, with the Hagerman Foundation, made a $5 million gift to Ferris. It is the largest outright gift ever made to the university. The Hagermans' gift supports renovations to the College of Pharmacy building, provide annual and endowed scholarships in Pharmacy and provide an endowed chair for medical informatics.
Additionally, the board reviewed and approved an updated Big Rapids campus master plan. Neumann Smith, an architectural firm based in Southfield, Mich., was retained to help update the 2009 version of the Big Rapids campus plan and the 2005 Grand Rapids/KCAD master plan.
Included among action items, the trustees approved:
full-time resident undergraduate tuition of $382 for lower division and $392 for upper division courses, and for KCAD students $382 for lower division and $392 for upper division general education courses, per credit, and $830 for studio courses;
renovation of instructional space for KCAD's Architectural and Illustration programs. To meet the space needs of those programs, as well as the needs of academic classes, KCAD has proposed a renovation of what is now the student studio space on the third floor of its Ionia Ave. building in Grand Rapids;
the continuation of an agreement between the University Advancement and Marketing division and Gift Planning Associates of Shelby Twp., Mich.;
an agreement with Abila, Incorporated in Austin, Texas for the rejuvenation of the UAM Millennium alumni/donor database system;
the administrations' request to seek bid proposals for KCAD security services that will begin when the college's current security contract expires on June 30, 2015; and
the administration's recommendation and authorize the VP for Administration and Finance, or his designee, to negotiate and enter into an agreement with a selected vendor for testing services. Vulnerability and penetration testing of information systems is required for Health Information Portability Affordability Act, also known as HIPAA, and Purchasing Card Industry compliance.
The trustees are chair Paul E. Boyer, of Ada; vice chair Erin R. Brown, of East Lansing; secretary Lori Gwizdala, of Bay City; immediate past chair Gary L. Granger, of Byron Center; Alisha M. Baker, of Mount Clemens; Ana L. Ramirez-Saenz, of Rockford; Rupesh K. Srivastava, of Wixom; and Arthur L. Tebo, of Walloon Lake.
The next regular meeting of the trustees is Tuesday, July 7 via conference call. Committee meetings are scheduled to begin at 10 a.m. followed by the full board meeting at 11 a.m. The next in-person meeting is Friday, Oct. 9 in Grand Rapids.