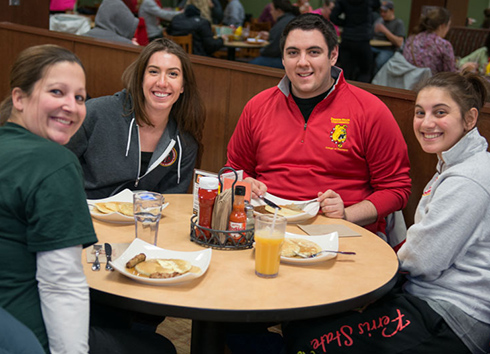 Ferris State University students are invited to take a break from exam week and stop by "Pancakes with the President." Ferris President David Eisler will be joined by faculty and staff to serve pancakes to students at The Rock Café from 10 p.m. to 12 a.m. on Monday, May 4.
"Students should attend to enjoy mouthwatering pancakes while also having an opportunity to ask President Eisler any questions regarding any university topics," said Keegan Murphy, public relations director for Student Government. "This year, we will have the ability for people to send in questions from their social media platforms and they will be displayed on televisions at The Rock Café."
Murphy is a junior majoring in Information Security Intelligence from St. Clair, Mich.
This free event, which typically attracts hundreds of students on the first day of finals week during the fall and spring semesters, will be open until midnight. The Spring 2014 event set a record with more than 1,000 students in attendance. All Ferris students are invited to attend, but must show a valid student ID to be admitted to the facility.
This event will also include games and prizes.
"Pancakes with the President" is co-sponsored by Student Government and Dining Services.
The Academic Support Center's Tutoring Center will provide tutoring in biology, chemistry and math during Pancakes with the President. The tutoring will take place in The Rock Café Private Dining Room from 10 p.m. to 12 a.m. For more information call (231) 591-3543.