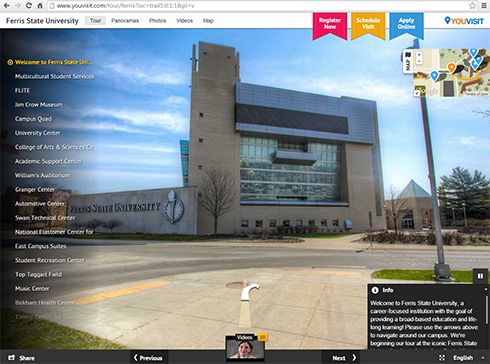 In an effort to make Ferris State University more accessible, for people who may not physically be able to make it to the Big Rapids campus, a virtual tour is the next best thing to the real thing.
The development of a more comprehensive virtual tour led the university to collaborate with YouVisit. The company has developed virtual tours for colleges and universities across the U.S. and around the world. Taking the lead in Ferris' partnership with YouVisit has been Enrollment Services, including Admissions.

One primary virtual tour goal is to provide prospective students a greater opportunity to see what main campus looks like from distances that may be too far to arrange a visit.
"Ferris' virtual tour allows us to give a similar campus visit experience to any interested students, across the world, who may not have the ability to physically visit before they arrive for orientation and classes," said Jessica Simon, an Admissions recruiter. "This is something that previously was a 'shot in the dark' for those out-of-state and international students choosing a postsecondary institution they had never seen, and hoping they enjoyed it."
Simon further noted that annual tour updates include new images, changes to the different stops and the general flexibility to maintain an up-to-date feel to insure the best possible accuracy. A recent addition was the recently-renovated University Center building.
In addition to its usefulness as a resource for prospective students and parents who may have to travel greater distances, the tour also has a value to show others, such as alumni who may not have visited campus in years, what Ferris looks like today.
"We are confident that this tool provides a much needed assurance, in choosing Ferris State, for students all over the country and world," Simon said.
The tour also provides an opportunity for prospective students to register for more information about Ferris, if interested. Also included is basic information about Ferris, access to selected Ferris-related videos and more.
To access the Virtual Tour visit, here.