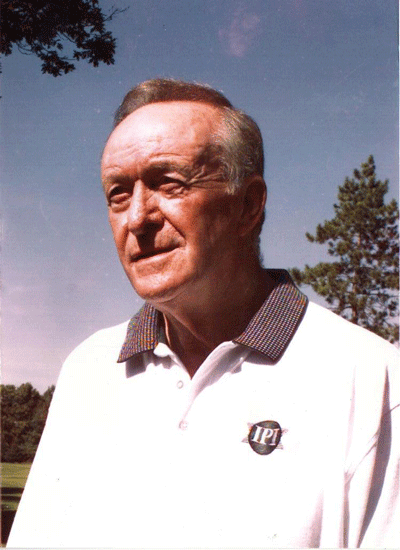 TOLEDO, Ohio – Don Perné,co-founder of Ferris State University's PGA Golf Management program, passed away on Saturday, March 21 at the age of 86.
Perné and former Ferris President Robert L. Ewigleben were key figures in the development of the PGA Golf Management program at the university. During the announcement of his 2011 induction into the Michigan Golf Hall of Fame, Perné noted that he considers co-founding Ferris' PGAGM program to be his No. 1 achievement.
The funeral will be held on Saturday, March 28, 2015, at the Epworth Methodist Church in Toledo, Ohio at 11 a.m. For directions to the church, visit here.
In lieu of flowers, the Perné family would prefer that donations be made to Ferris' PGAGM program that Don helped found. Donations may be made, on Don's behalf to the campaign for the PGA Golf Management Learning Center and new home of the Michigan Golf Hall of Fame at Katke Golf Course in Big Rapids, Mich. The goal is to build a state-of-the-art learning, teaching, and golf history center with heated indoor hitting bays for year-round practice.
In 1972, Perné came into contact with Ewigleben, a longtime associate, who he had not spoken to in more than 20 years – dating back to their high school days. The two had discussed Perné's dream of developing golf professionals in college. Ewigleben, who became Ferris' 12th President indicated that Ferris could be the ideal home for such a program. Later that year, the two formed a plan to develop a college program that would have golf as an accredited program.
Gary Wiren, then PGA Educational Director was brought in to help formulate the program and firmly fuse it with PGA requirements and endorsed by The PGA of America. The Professional Golf Management degree was born. By the fall of 1975, the key pieces were in place and the program was launched with an inaugural class consisting of 50 students. The program will be celebrating its 40th anniversary this year having graduated 1,767 students.
To make a donation to the PGA Golf Management Learning Center, on Don's behalf, click the link, here.
Don once said, "The golf business has been very good to me, but being part of the Ferris Professional Golf Management program has been my proudest achievement." Later, Ferris made Don an honorary alumnus and each year it presents an award to an outstanding PGAGM senior in his honor. Don noted, "It couldn't be any sweeter."