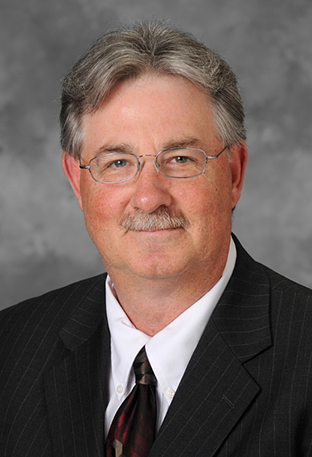 DETROIT, Mich. – Ferris State University alumnus Brian Gamble has been named executive vice president and chief financial officer of the Detroit-based Barbara Ann Karmanos Cancer Institute. His appointment is effective Monday, March 16.
Gamble will report to Dr. Gerold Bepler, president and CEO of the Karmanos Cancer Institute, and David Mazurkiewicz, senior vice president and chief financial officer at parent company McLaren Health Care. Gamble's new role will be to provide strategic leadership to establish financial plans for the hospital and forecast revenues and expenses based on healthcare economics. He will also lead and direct the accounting, finance and treasury operations at the Karmanos Cancer Institute as well as oversee activities associated with the security and investment of Karmanos assets and funds.
"I am very excited to join a world-class cancer institute and look forward to becoming part of the Karmanos Cancer Institute team to carry on the Karmanos mission," Gamble said in a news release issued by the institute. "As a longtime Detroit area resident, I know of its solid reputation locally, nationally and internationally for delivering outstanding patient care and providing leading-edge cancer treatments."
Gamble earned Bachelor of Science degrees in Accounting and Finance from Ferris, in 1983, and currently is a Master of Business Administration candidate at Walsh College of Accountancy.
"Brian Gamble is a results-oriented executive with proven experience in successfully leading and managing complex financial operations within a healthcare setting," Bepler said. "We are pleased that he is joining us and bringing his considerable financial acumen to the Karmanos Cancer Institute."
Gamble has more than 30 years of business experience in treasury operations, investment management, debt management, financial analysis and mergers and acquisitions. He most recently served as both the vice president and assistant treasurer for Henry Ford Health System and as the vice president of Finance and chief financial officer of Henry Ford West Bloomfield Hospital, where he gained additional experience in managing hospital financial operations. While at Henry Ford Health System, he also has served as corporate director of Treasury, served as cash manager and served on several subsidiary boards.
Information about the Barbara Ann Karmanos Cancer Institute.