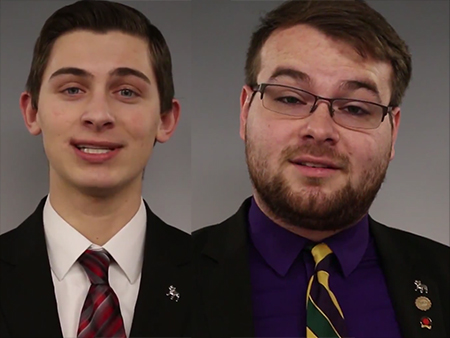 VIDEO: Meet the candidates for the 2015-16 Student Government election.

Ferris State University Student Government announced its 2015-16 academic year presidential candidates at the general meeting on Monday, March 16.
The two presidential candidates are: Wayne Bersano, a junior majoring in Hospitality from Pinconning, Mich. and Dylan Carpenter, a junior majoring in Psychology from Reed City, Mich.
"The two candidates have both been every involved in Student Government and I am excited to see the variety of campaign ideas that they bring," said Andrew Kalinowski, current Student Government president.
The president of Student Government is tasked with the responsibility of representing the Ferris State Student Body to both the community, as well as the administration at Ferris. In order for the student body to get to know the candidates a little more, active campaigning will take place from Monday, March 16 until Sunday, April 12, 2015. As well as active campaigning, there will be a presidential debate on April 6 at 8 p.m. in the University Center, Room 202.
"It is strongly encouraged that all students vote in the election for Student Government president," said Kalinowski. "This person is here to provide the students with a voice and an avenue to help voice their opinions."
Voting will take place on OrgSync under the Election Portal from Monday, April 6 at 9 p.m. to Sunday April 12 at 11 p.m.
For more information, check out the Student Government Facebook page, here.
Candidates pictured are: Wayne Bersano and Dylan Carpenter