Behind-the-Scenes Travel Journal: Ferris Bulldogs Men's Basketball Team at the NCAA Division II Tournament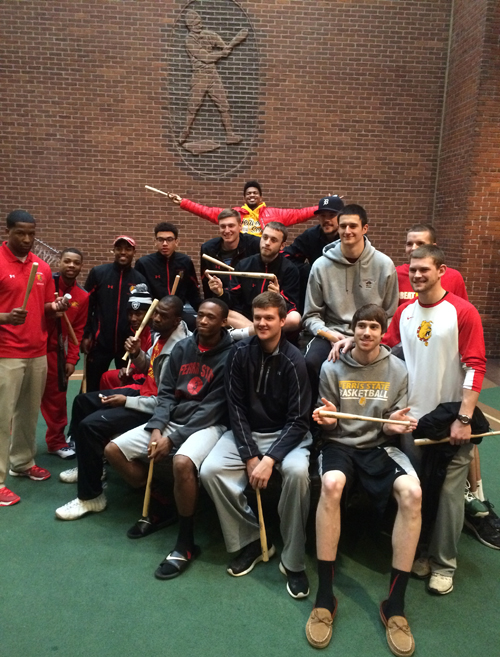 LOUISVILLE, Ky. – Our special behind-the-scene peek at the Ferris State University men's basketball team's trip to the Louisville, Ky. continues with day two from the Bluegrass State.

Friday, March 13
9:30 a.m. Team is up and ready for breakfast.
11:00 a.m. The team got to visit the Louisville Slugger Museum & Factory. They walked through the factory and saw the bats being made. They even received a souvenir bat at the end of the tour. Next they toured the museum where they learned about how the first Louisville Slugger bat was made in 1884. They got to see bats used by famous hitters, such as Babe Ruth and Joe DiMaggio as they mingled with lifelike sculptures of Babe Ruth, Ted Williams, Ken Griffey Jr, and Derek Jeter. They were allowed to hold Louisville Slugger bats that were actually used by some of baseball's greatest hitters–past and present–including Mickey Mantle, Cal Ripken Jr, David Ortiz and Johnny Bench. And for the most interactive portion of all was the batting cage where they could hit with replica bats of legends like Babe Ruth and Ted Williams, plus current superstars.
12:45 p.m. Lunch at Subway
2:00 p.m. Back to business, the players watched film in coach's room.
3:00 p.m. Film was followed by practice.
7:00 p.m. Dinner at Outback Steakhouse
10:30 p.m Back to their rooms and lights out
CAPTION: Team outside of the Louisville Slugger Museum and Factory with the world's biggest bat. The bat is made of steel, weighs 68,000 pounds and stands 120-feet tall. It's an exact-scale replica of Babe Ruth's 34-inch Louisville Slugger bat.